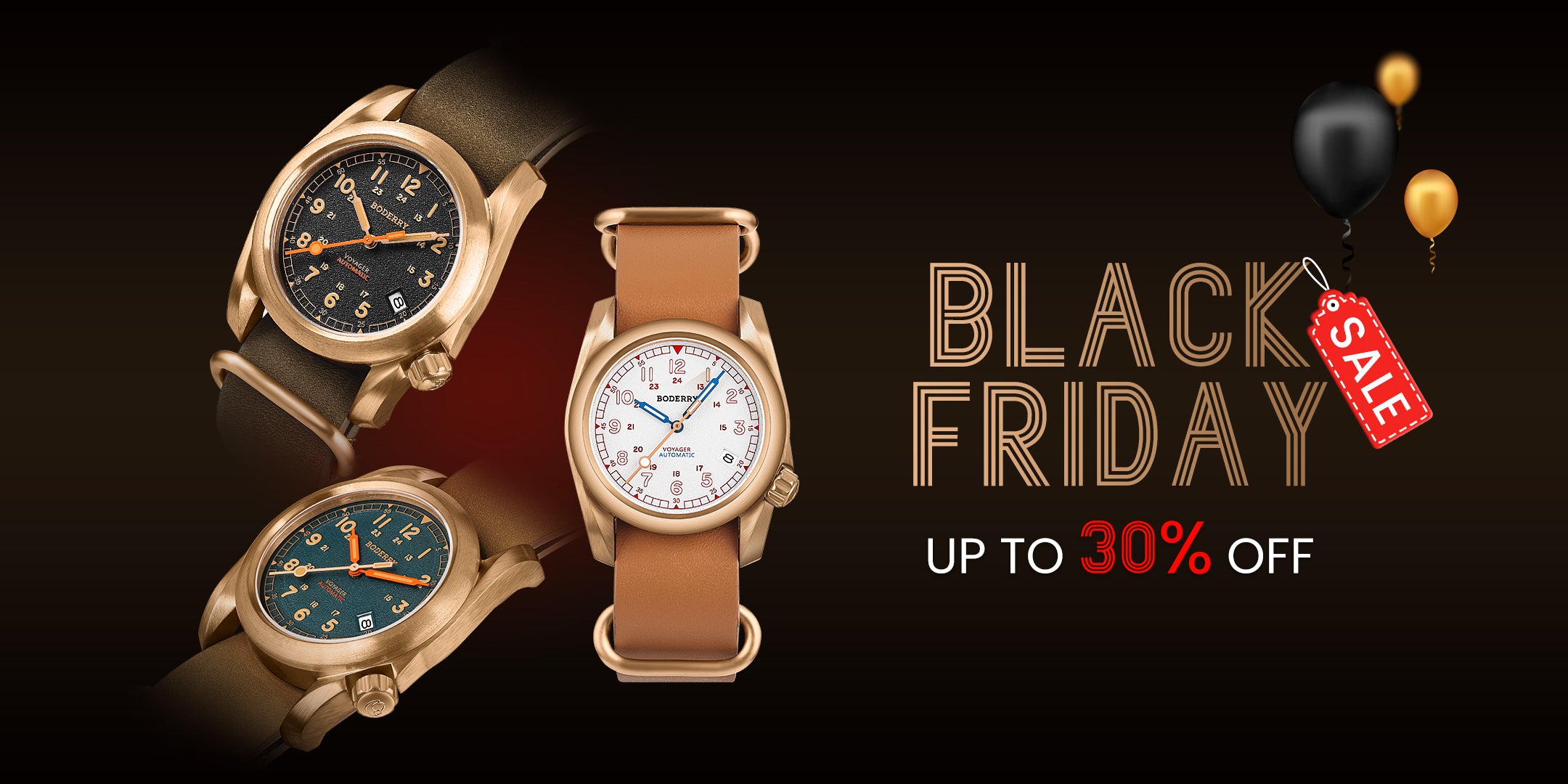 BODERRY WATCH CO.
Black Friday Mega Sale!
Dear valued customers, we sincerely invite you to join our Black Friday Mega Sale! Thanks to your enthusiasm and numerous fan requests, we're extending the madness. Over the next 9 days, we will continue to offer the biggest discounts of the year on most of our products. Don't miss out on this excellent opportunity to purchase your favorite watches!

(Note: Due to limited supply, the VOYAGER series will not be participating in this event. We apologize for the delayed delivery of all VOYAGER orders. The VOYAGER watches are now fully restocked, and we are working diligently to dispatch your orders. Please trust us; all good things are worth the wait, and we believe you will receive your beloved timepieces very soon! Thank you for your support throughout the year. Cheers!)
Swiss-Made Quartz(Movement) Watch Special - 25% OFF
As a top-selling quartz watch series in Southeast Asia, this Black Friday promotion will offer fantastic discounts. With its classic design and Swiss-made quartz movement, where else can you find a watch like this at such a price?
ASYMMETRY - 30% OFF
ASYMMETRY CHRONOGRAPH, a stunning DOMED SAPPHIRE CRYSTAL mechanical chronograph that exudes exquisite craftsmanship. Sporting a balance between sportiness and elegance, it's the perfect time to grab this if you're into mechanical chronographs.
DRAGONFLY - 30% OFF
DRAGONFLY, the only women's mechanical watch series by BODERRY, features a unique dial design symbolizing the beauty of feminine individuality. It's a perfect choice for the gentlemen looking to purchase Christmas gifts!
VOYAGER
VOYAGER, the annual blockbuster, might not be part of this year's Black Friday promotion, but we'll be compensating with some gifts for delayed orders from this collection. Please be patient, and you'll receive your beloved VOYAGER watch!