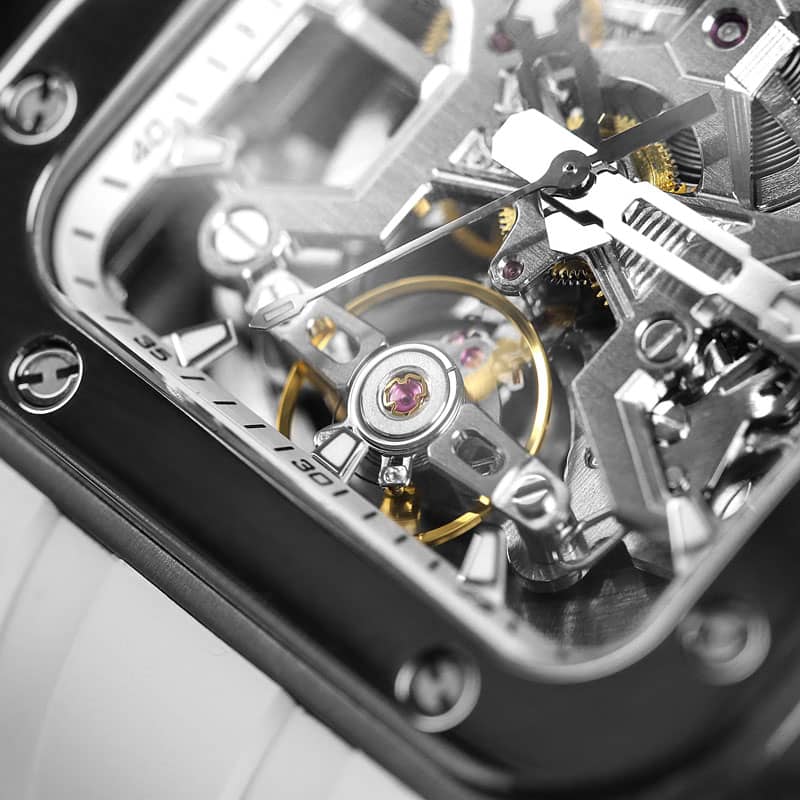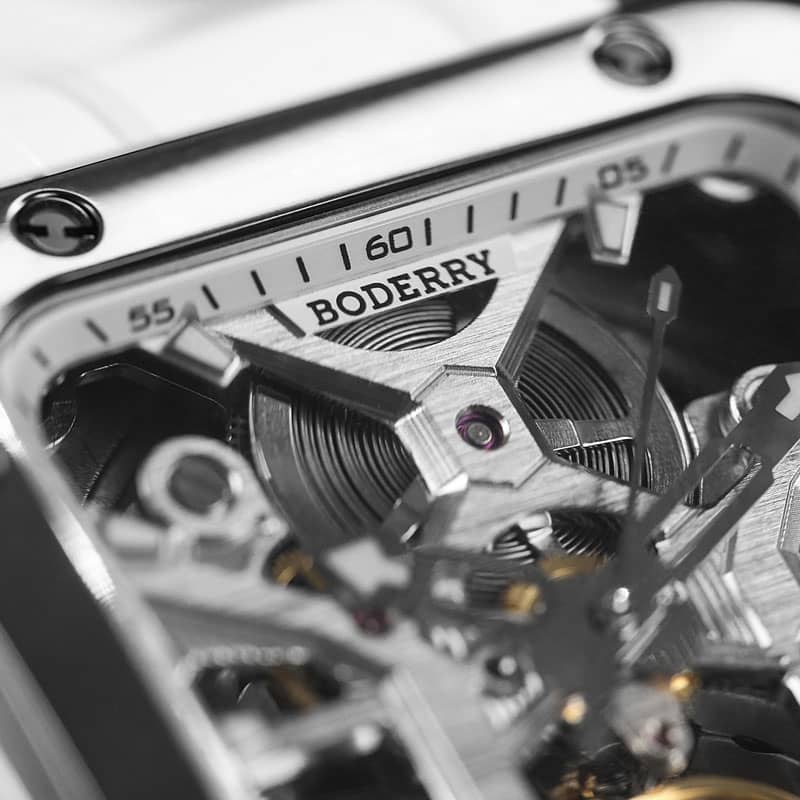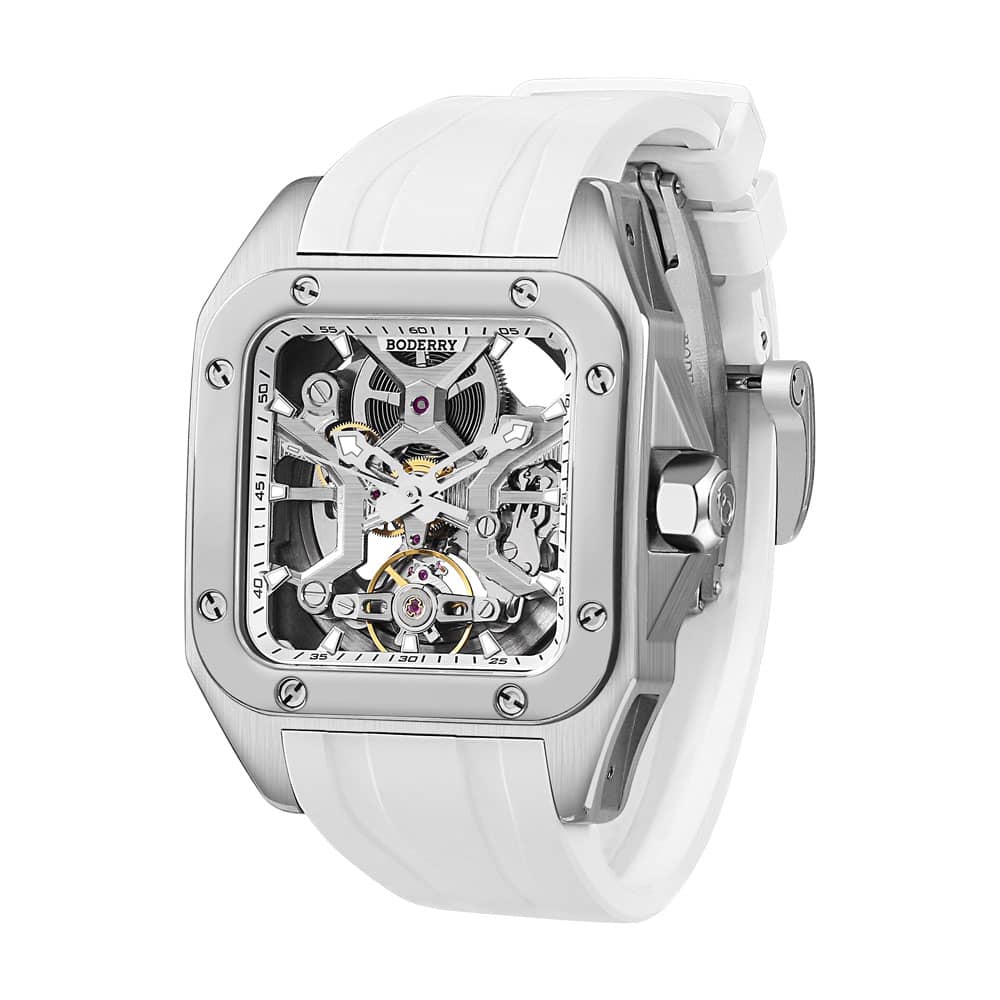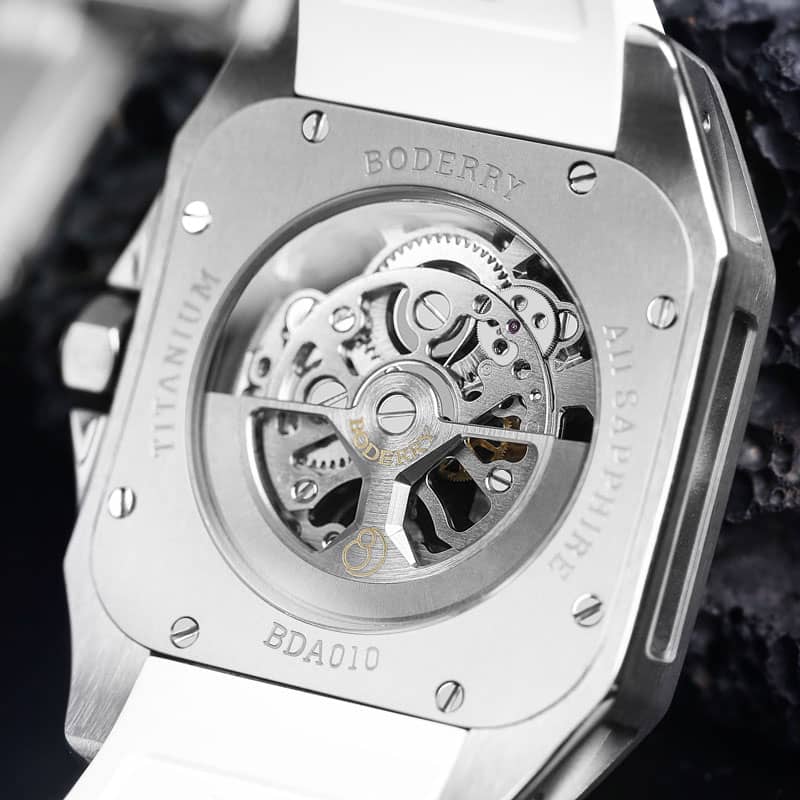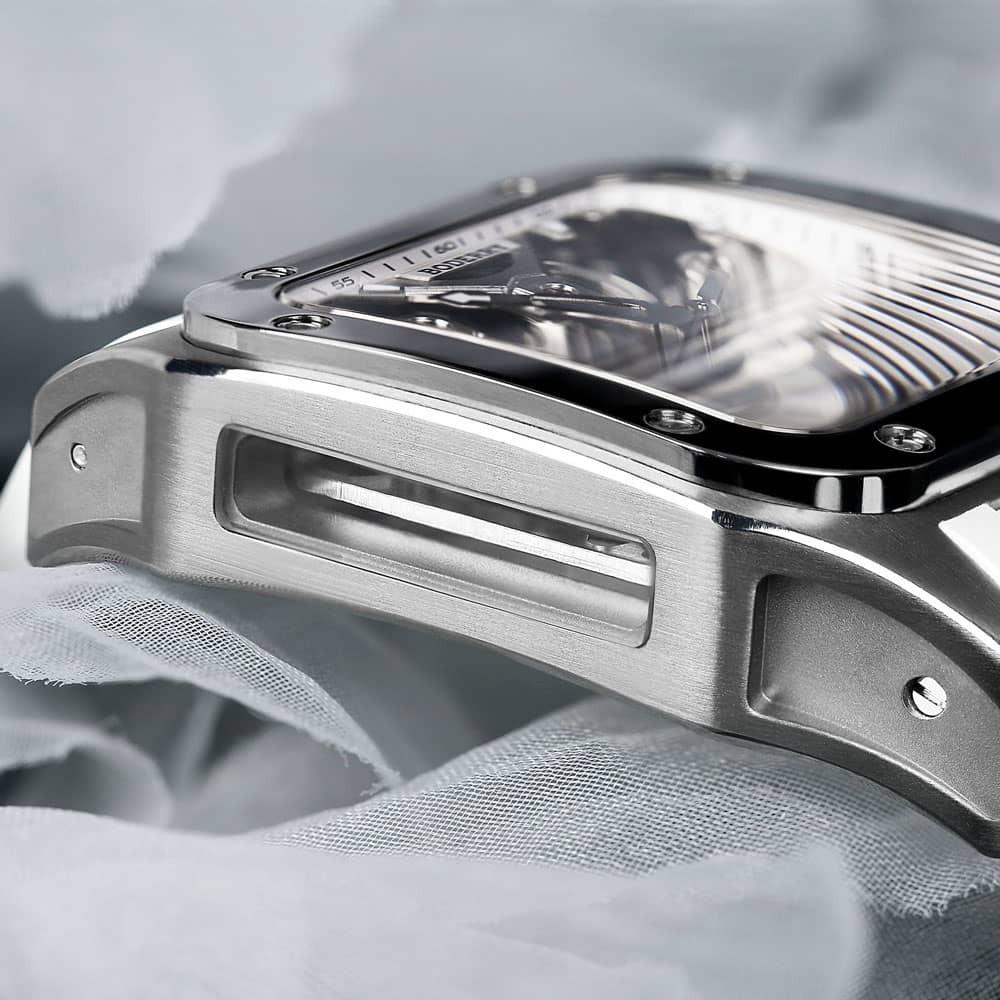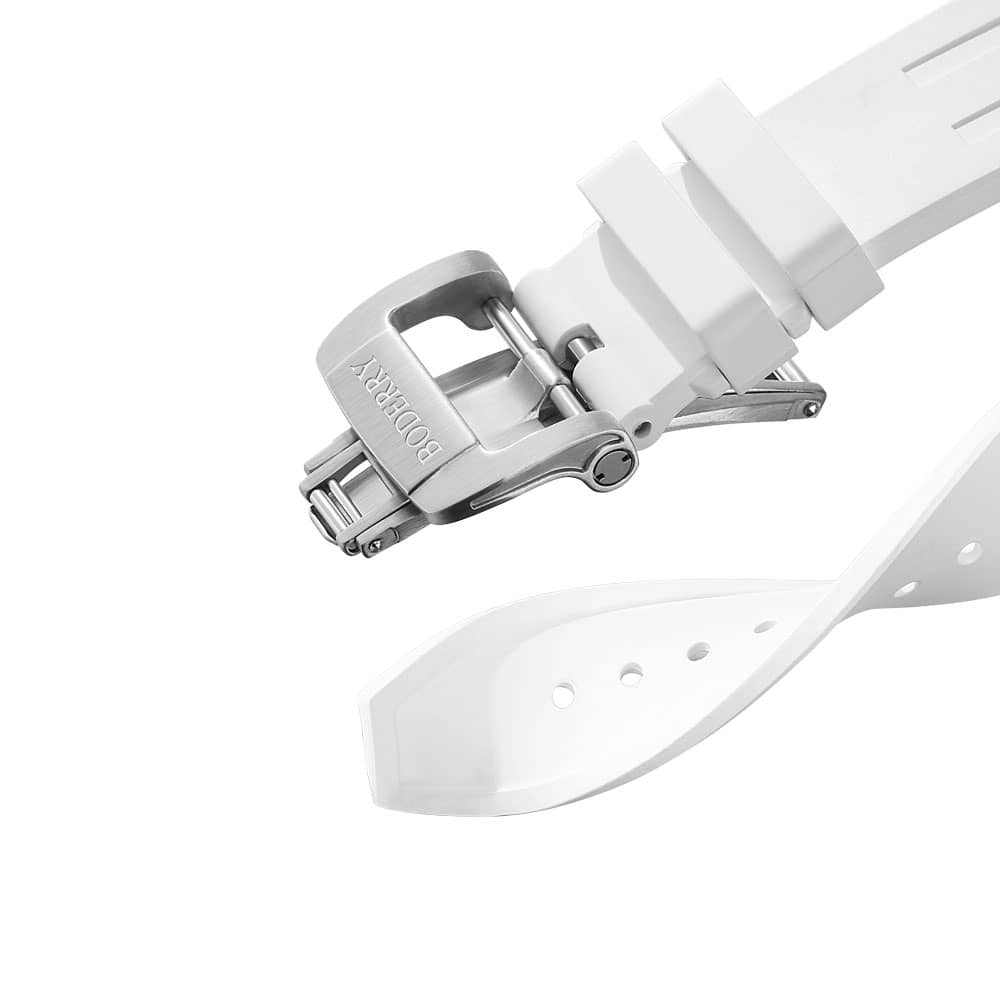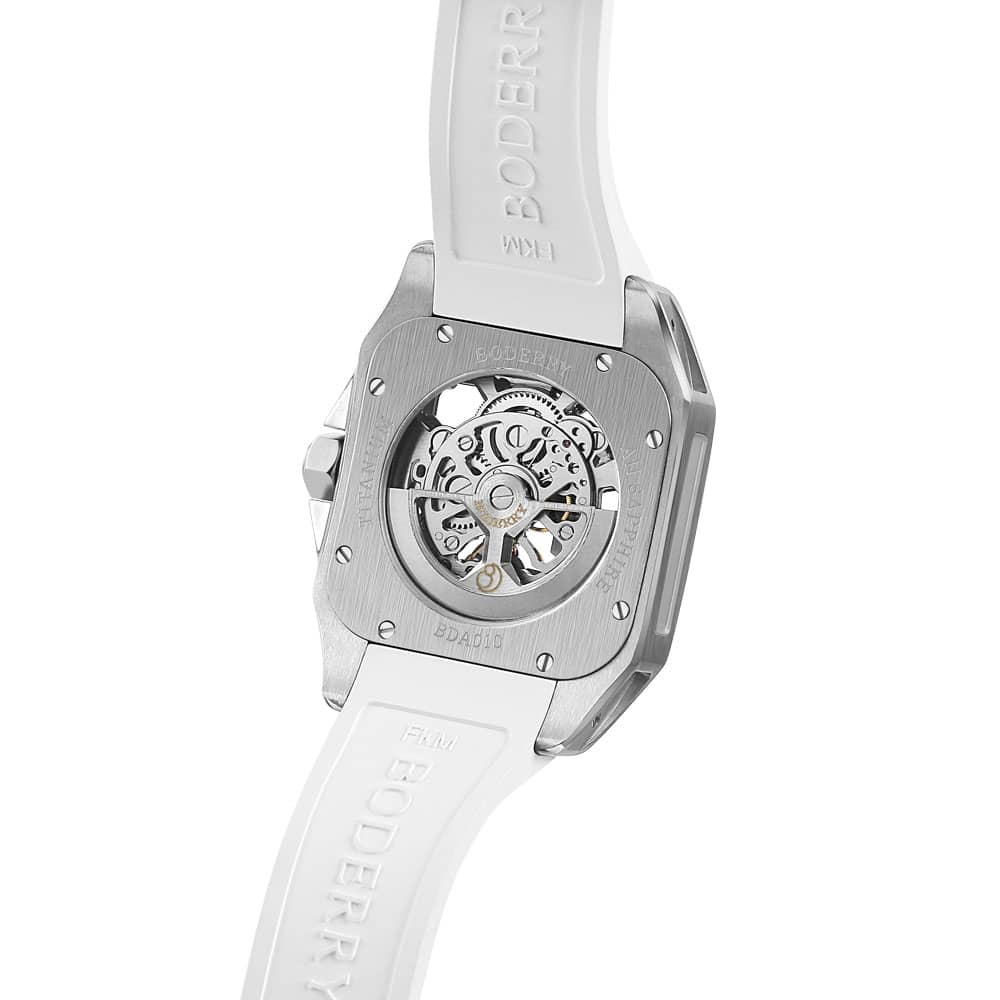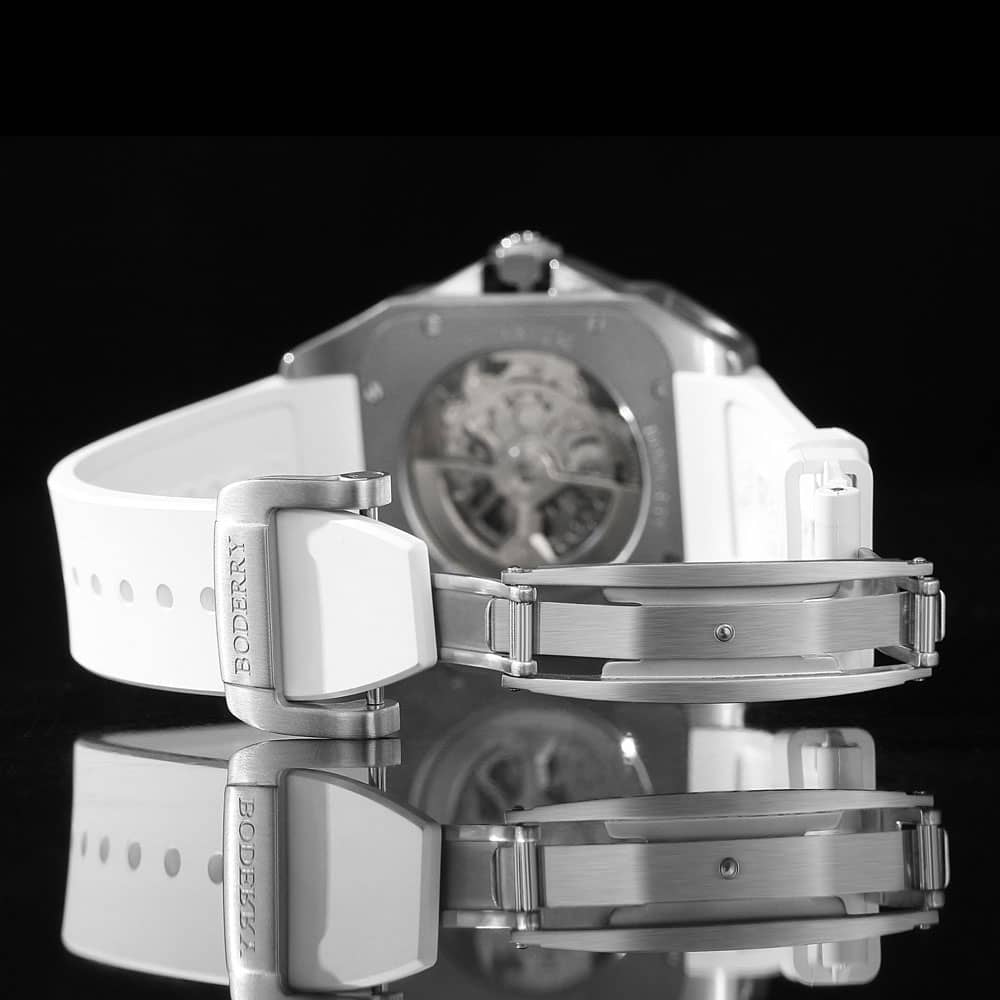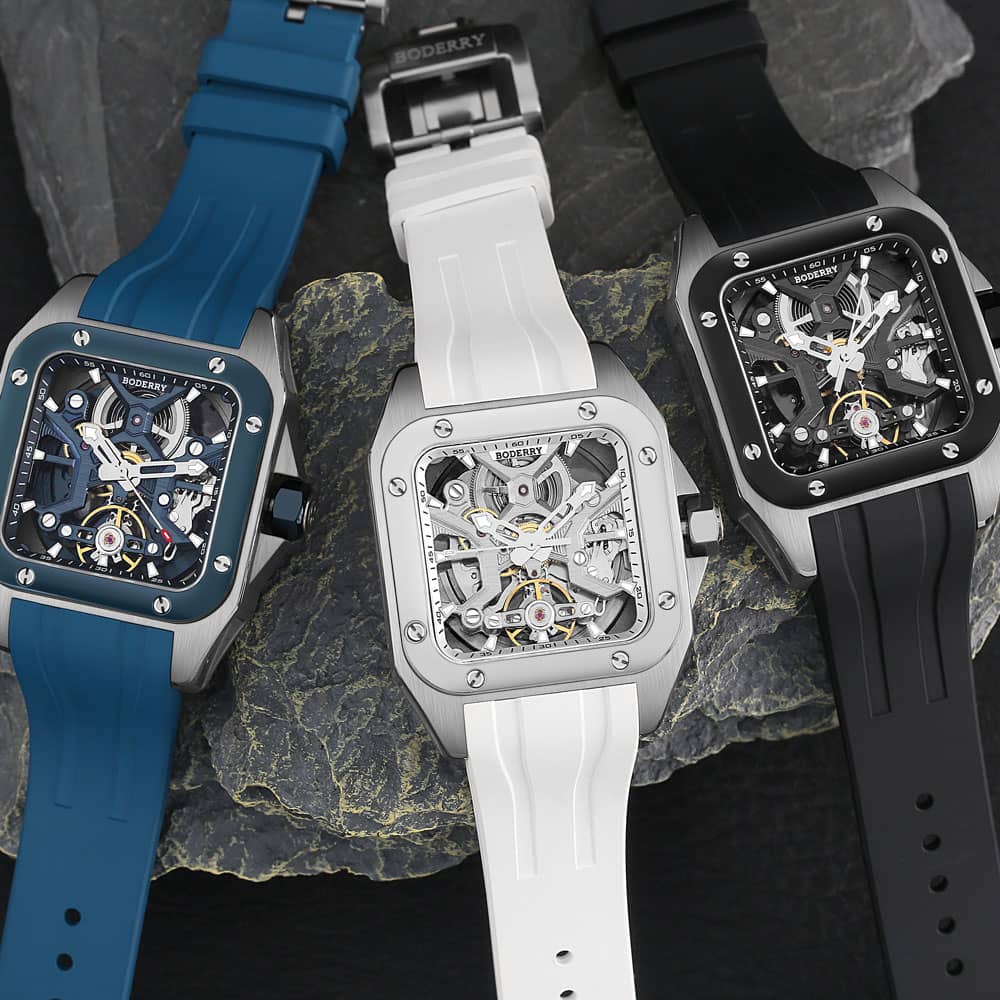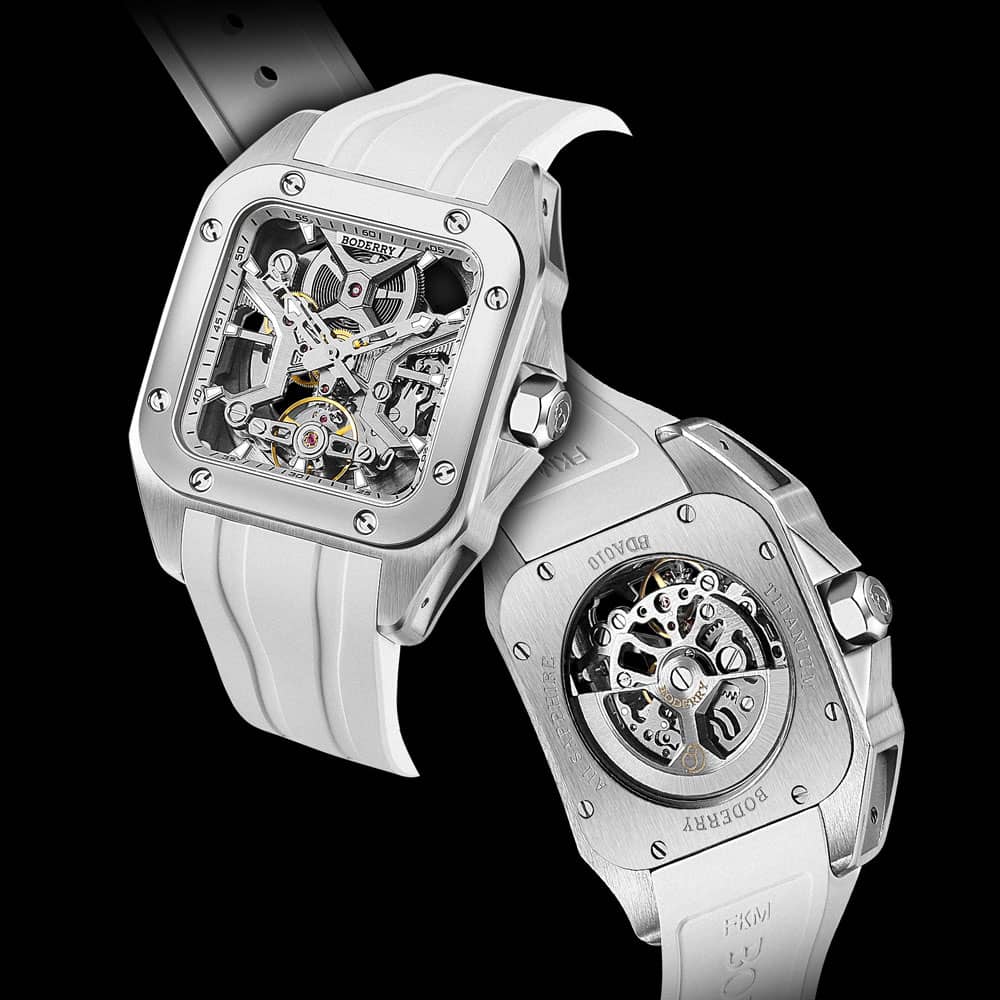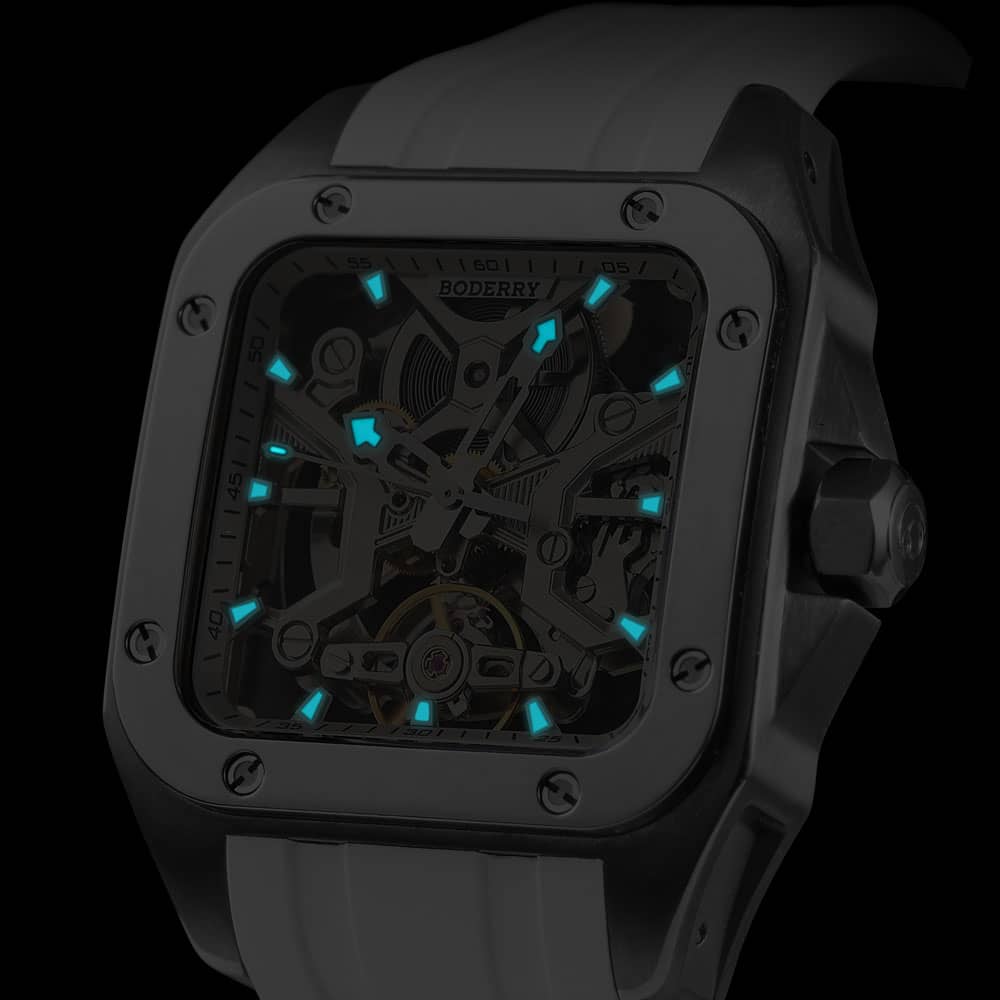 STORM - Square Automatic Titanium Watch | A10T-02
In stock
Inspiration:
In this era, there are outstanding young people leading in every field, inheriting the legacy left by predecessors and endowing it with stronger innovation. This is an inspiring thing. It also symbolizes the adventurous and passionate spirit of the younger generation, which is like an unstoppable youth storm sweeping across the world. As a new force of a young brand, BODERRY devotes its passion to the watch industry, and I would like to call this passion a "storm". It can be a storm of youth, or a storm of passion. Therefore, when designing this watch, we took "storm" as the theme & inspiration and applied it to the hollow structure of the movement plate. Its shape is like lightning in the sky before the storm comes, representing the courage to challenge the unknown and explore the future. Each wearer can feel the power of fearlessness from it.
Item Model:Storm BDA10T-02
Size:42mm Diameter/14.5mm Thickness/24mm lug width
Case Material:Titanium
Glass:Sapphire Crystal
Movement : BD01(HZ)

3-hand Skeleton

Mechanical automatic,self winding
Power reserve 72+ hours
Frequency 28,800 vph
21 jewels

Water Resistant: 10 ATM
Straps: Fluororubber(FKM)
Buckle:Spring Folding
Luminous:Swiss Super-lumiNova BGW9
Shipping:
We aim to dispatch your order within 48 business hours of verification, although this may vary according to the current workload of our warehouse.And we do ship orders free worldwide, but that does not include any VAT, import taxes, or fees charged by your local customs authority.Unfortunately, at this time we are unable to cover any VAT, import taxes, or fees charged by your local government due to the fact that they vary in each country. Please note that this fee is not incurred by BODERRY, but your local government. If you have any questions please reach out to your local customs office. If you have any other questions please email us at support@boderry.com.We are more than happy to help!
Delivery Time:Standard shipping: (8-12 Days)
Express shipping (5-7 Days)
Return:Any BODERRY watch purchased from boderry.com may be returned within 30 days of delivery for a full refund or exchange of the purchase price. This ONLY applies to watches that have not been used, worn, or strapped on. Click here for more details.

Warranty:All BODERRY watches come with a 24-month warranty on the internal movements of the watch, which excludes any part subjected to external wear & tear. External wear & tear comprises (but is not limited to) scratches on case, lugs, or crystal, and/or water damage due to negligence. The warranty does not cover straps nor any watch that is not purchased via our website or authorized stockists. Click here for more information. Click here for more details.
Fraud Prevention: Your Payment is Safe & Secure.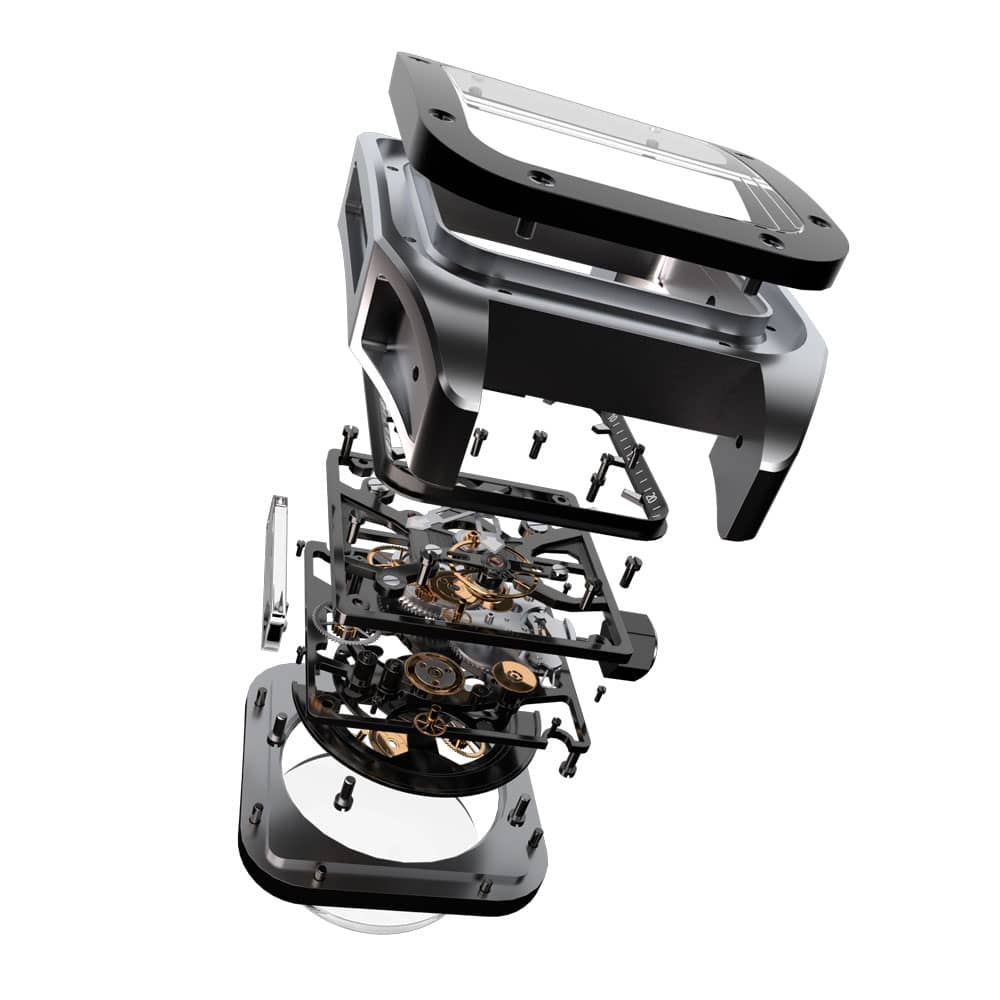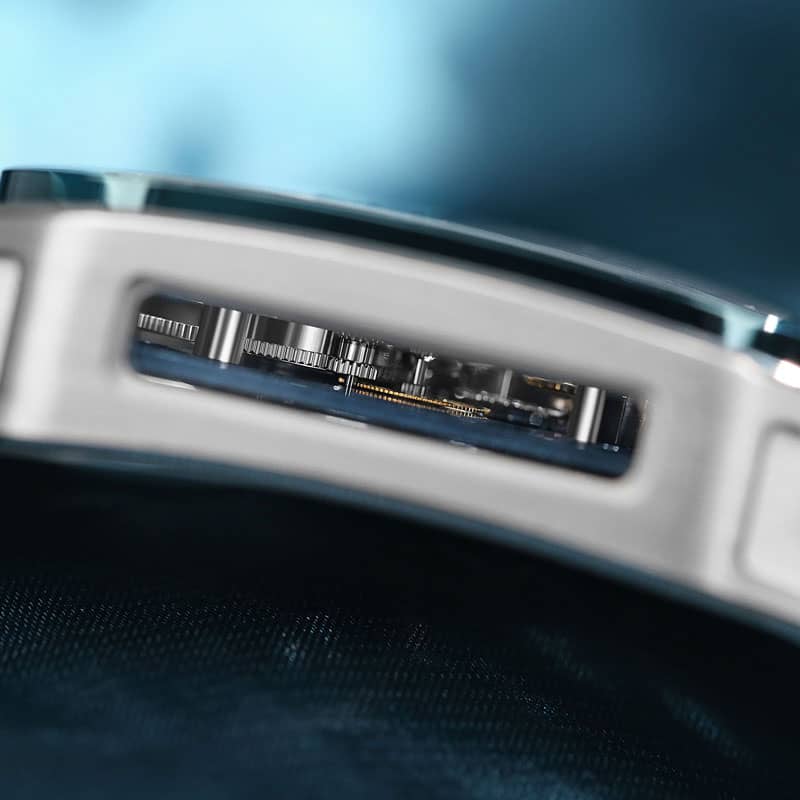 STORM
Titanium Case & Unique Skeleton Movement
We're thrilled to introduce our first-ever square case, made from lightweight and durable titanium with a sleek contoured design that exudes boundless energy. The STORM also features a new square-shaped hollowed-out movement, which is quite different from typical skeleton movements. This unique movement is composed of two sandwiched plates, creating a lightweight and agile structure that allows for a clear view of the inner workings. Equipped with 21 jewels, a frequency of 28,800 bph, and a power reserve of up to 72 hours, this new automatic mechanical movement is both reliable and precise.
STORM
Side Sapphire Exhibition Window
In order to fully showcase the mechanical beauty of this movement, we have uniquely designed a display window made of sapphire on the left side of the case, allowing the wearer to admire the exquisite craftsmanship of the double-layer movement's plate and mechanical structure. This is also one of the highlights of this watch.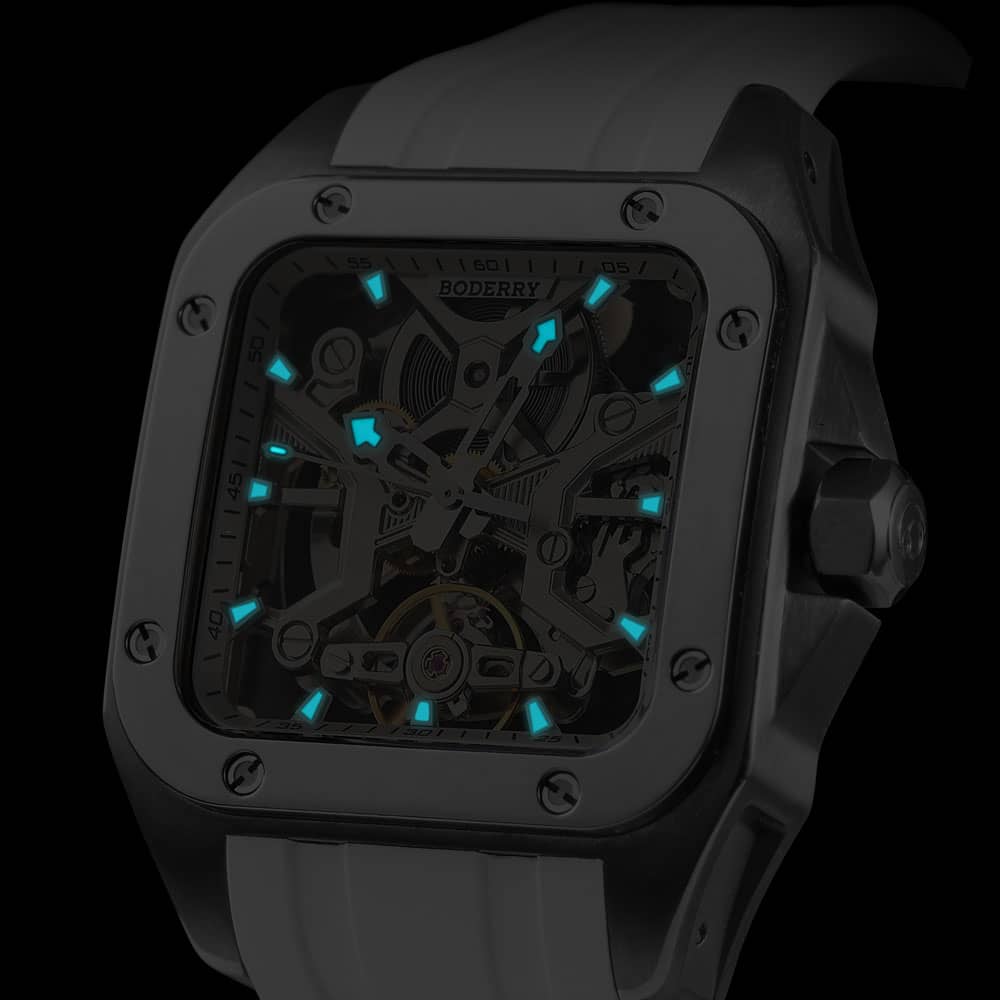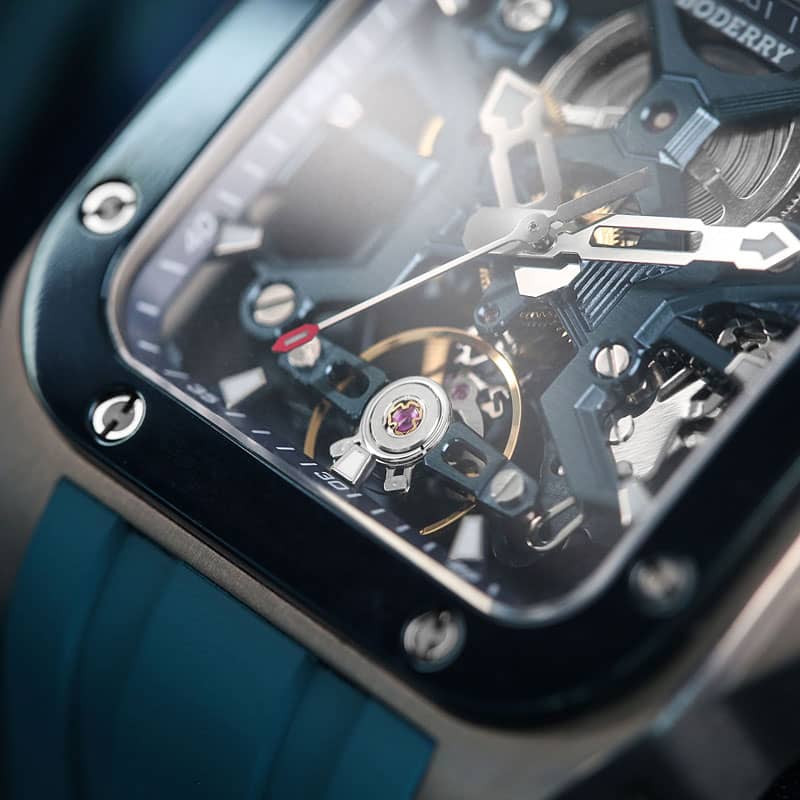 STORM
Illuminate Your Nights
Experience unparalleled visibility even in the darkest of nights with our Swiss Super-LumiNova. Engineered to provide exceptional luminosity, this innovative technology ensures that your timepiece remains effortlessly readable in any low-light or nighttime environment.
STORM
Uncompromising Clarity and Durability
Elevate your timekeeping experience with the superiority of our Sapphire Crystal Glass. Embrace the clarity, scratch-resistance, anti-reflective properties, and durability it offers, making it a remarkable feature of our timepiece.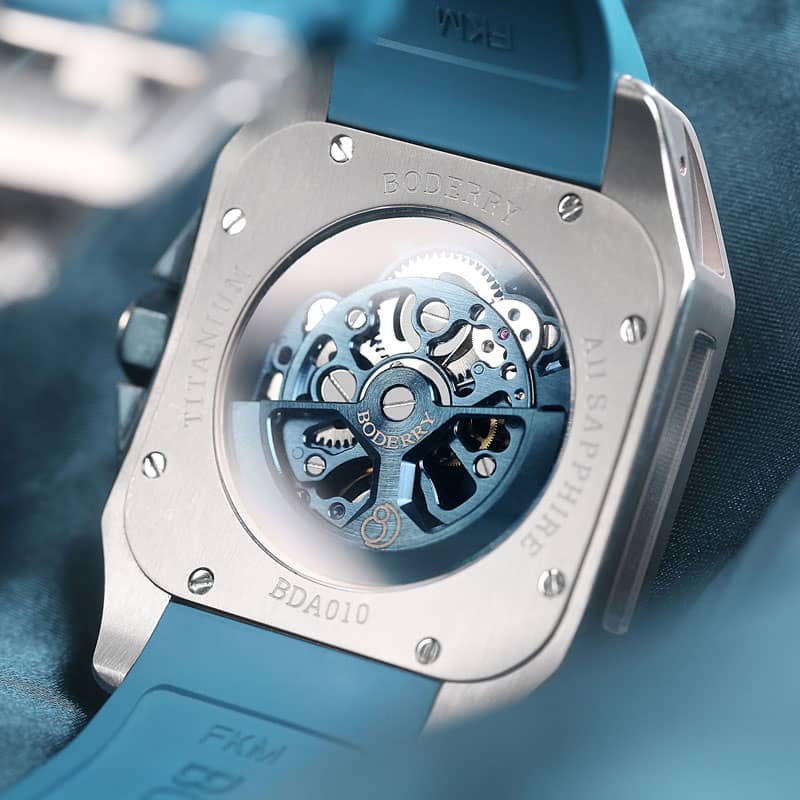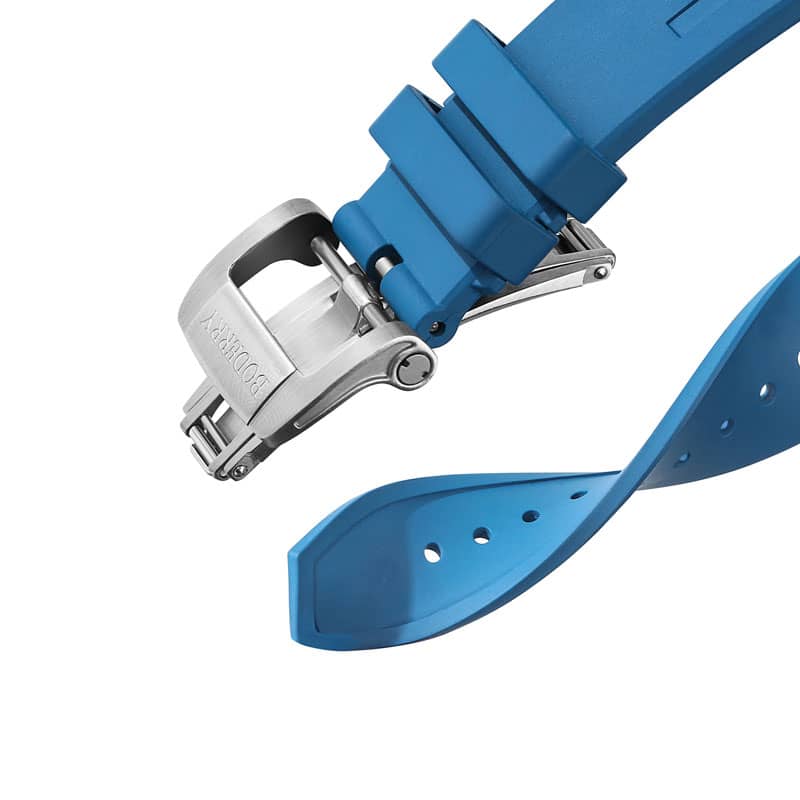 STORM
Transparent Case-Back
With its transparent back design, our watch offers a captivating glimpse into the intricate world of skeletonization. From the front, side, and back, you can fully appreciate the mesmerizing details of the watch movement. By embracing transparency, we reveal the true essence of the hollow-out design, allowing you to experience the artistry and craftsmanship that goes into every timepiece. Immerse yourself in the seamless fusion of transparency and intricate design with our meticulously crafted watch.
STORM
Fluoroelastomer(FKM) Strap
Storm features our newly customized fluororubber strap, the perfect blend of comfort, durability, and style. Made from a unique fluororubber compound, this strap boasts excellent resistance to UV rays, chemicals, and extreme temperatures, making it suitable for any occasion, whether spending a day at the beach or a night out in the city. The strap's soft texture perfectly conforms to your wrist, ensuring comfortable wear all day long. Paired with the new spring-loaded folding clasp, it's quick and easy to wear, allowing you to put it on in seconds!
{ "bubble": { "content": "", "shape": "portrait", "style": { } }, "previewVideoSources": [ { "mimeType": "application/x-mpegURL", "url": "https://cdn.shopify.com/videos/c/vp/17f92f50d5a446399a32becd7fa44143/17f92f50d5a446399a32becd7fa44143.m3u8" },{ "mimeType": "video/mp4", "url": "https://cdn.shopify.com/videos/c/vp/17f92f50d5a446399a32becd7fa44143/17f92f50d5a446399a32becd7fa44143.HD-1080p-7.2Mbps-15981568.mp4" }], "videoPosterUrl": "", "mainVideoSources": [ { "mimeType": "application/x-mpegURL", "url": "https://cdn.shopify.com/videos/c/vp/17f92f50d5a446399a32becd7fa44143/17f92f50d5a446399a32becd7fa44143.m3u8" },{ "mimeType": "video/mp4", "url": "https://cdn.shopify.com/videos/c/vp/17f92f50d5a446399a32becd7fa44143/17f92f50d5a446399a32becd7fa44143.HD-1080p-7.2Mbps-15981568.mp4" }] ,"product": {"price": "

$299.00 USD

", "originalPrice": "

$349.00 USD

", "title": "STORM - Square Automatic Titanium Watch | A10T-01", "url":"/products/storm-automatic-titanium-watch-black", "mainImgUrl": "//www.boderry.com/cdn/shop/products/01_7afda02d-dde5-4957-8e57-d743b340d4fb.jpg?height=240&v=1679393512", "shopButtonContent": "Shop" } }