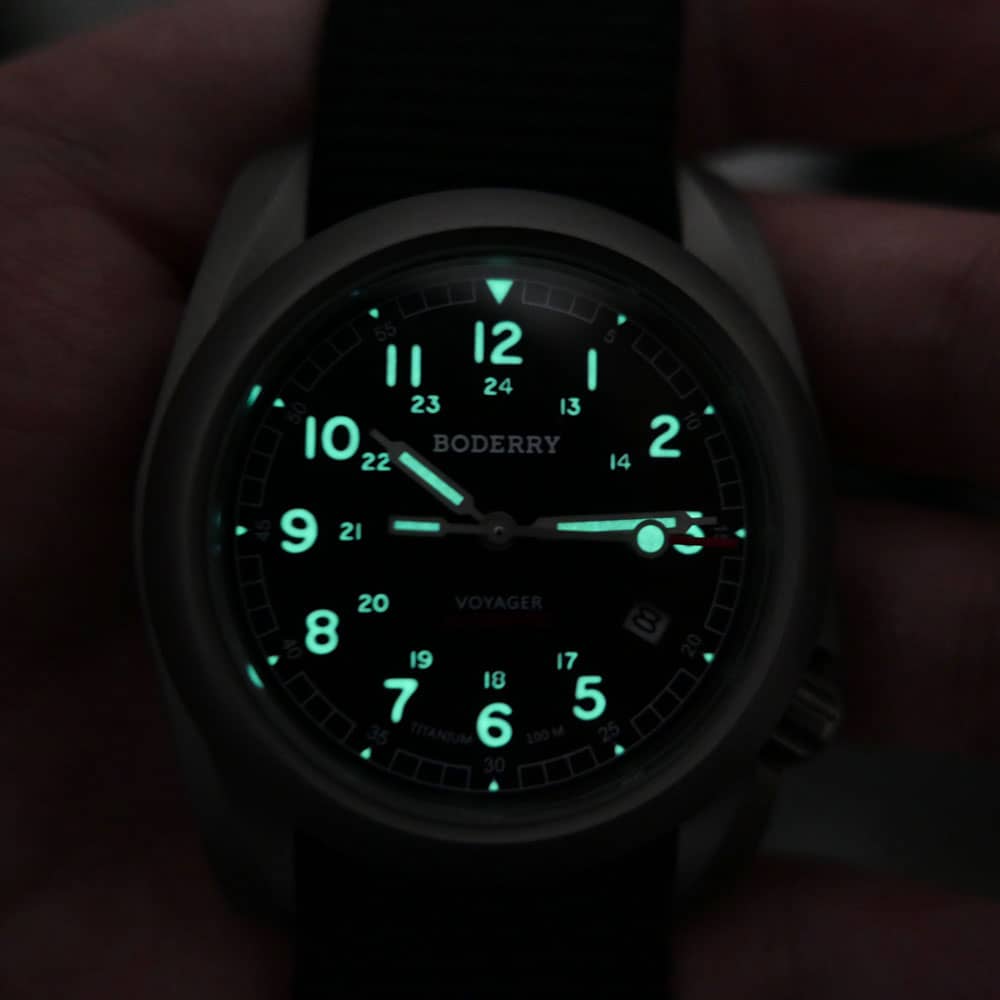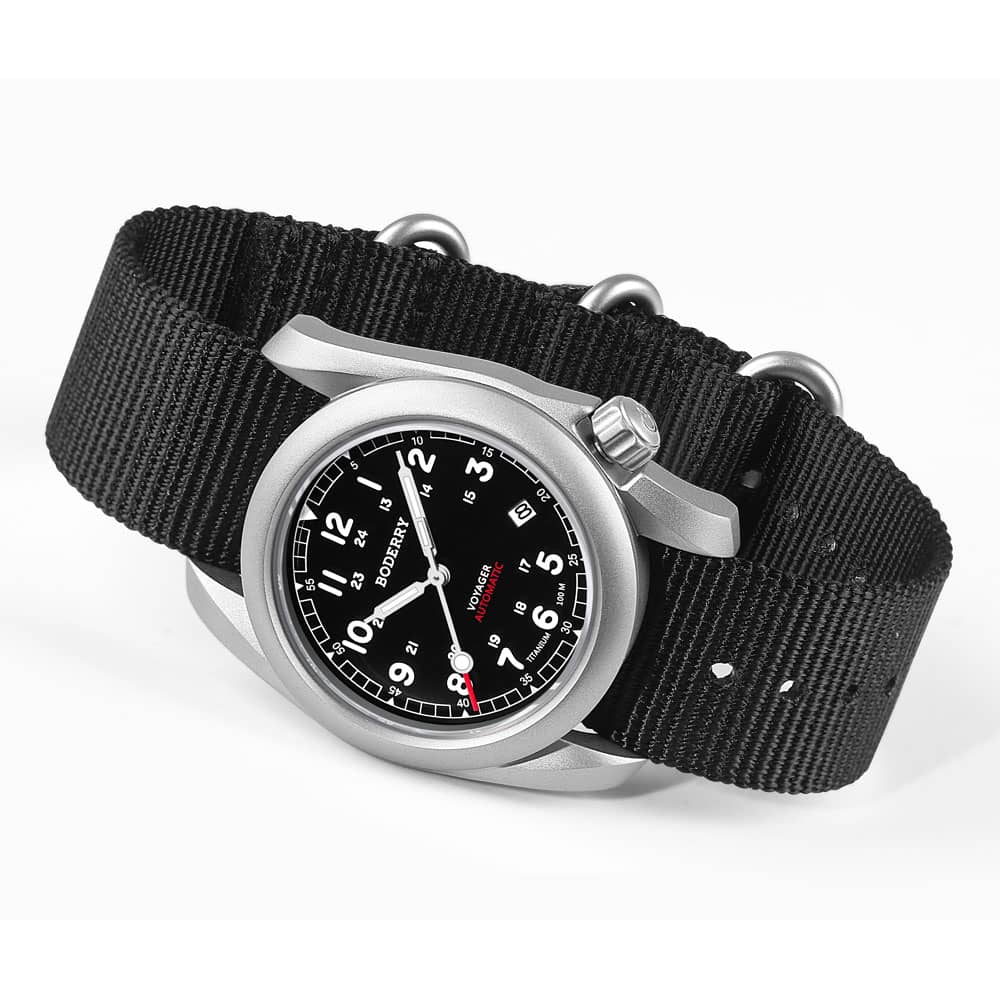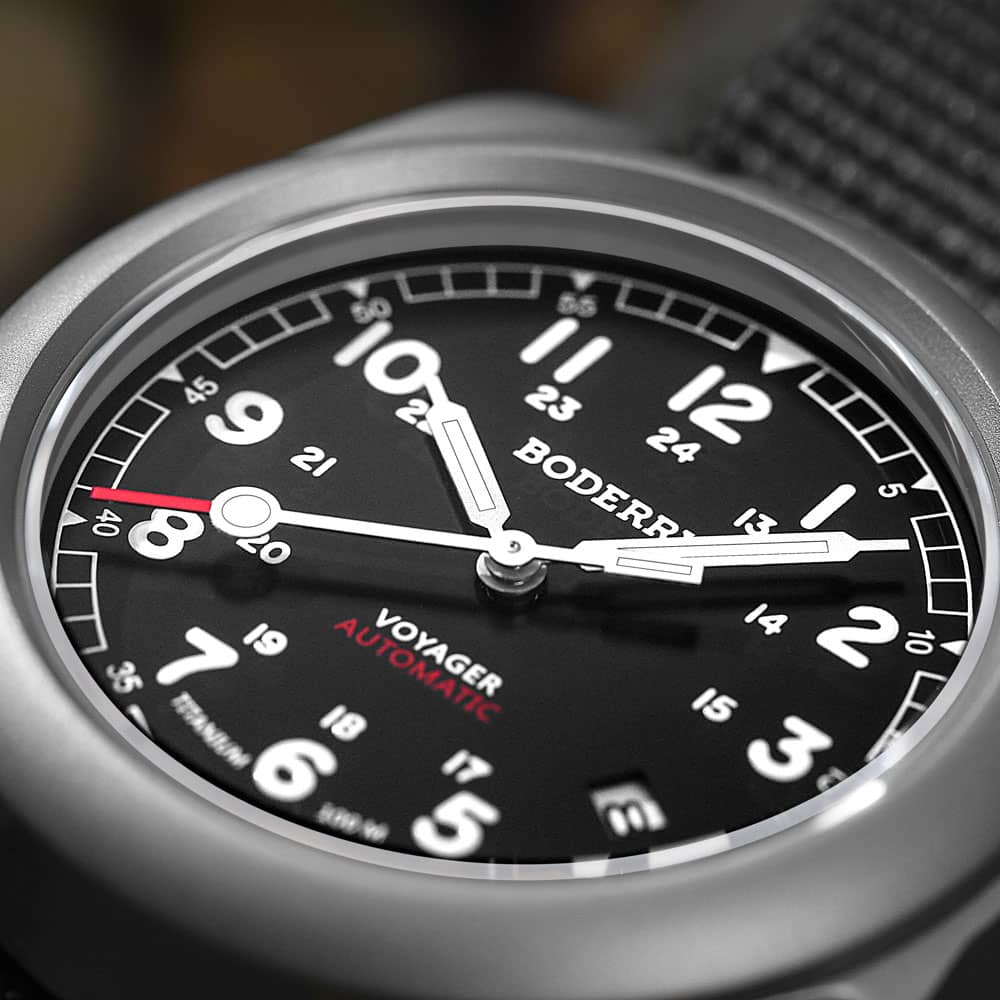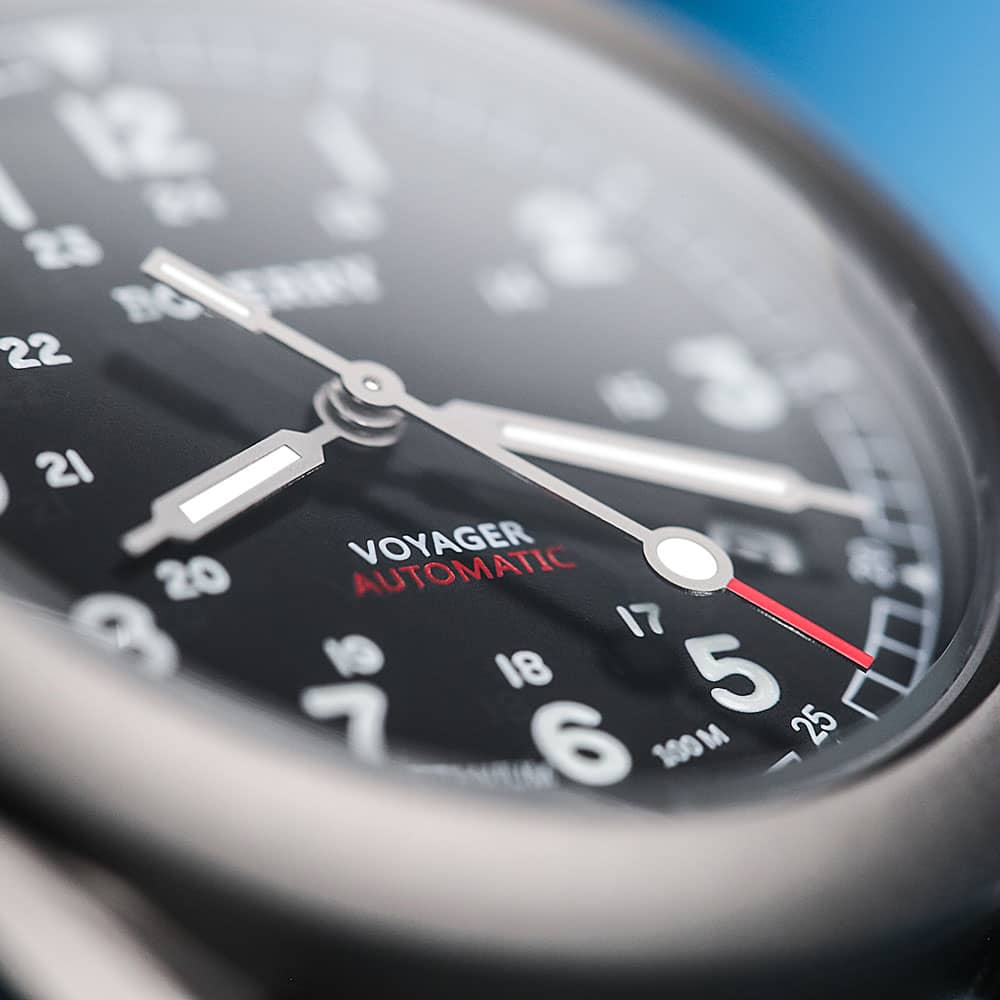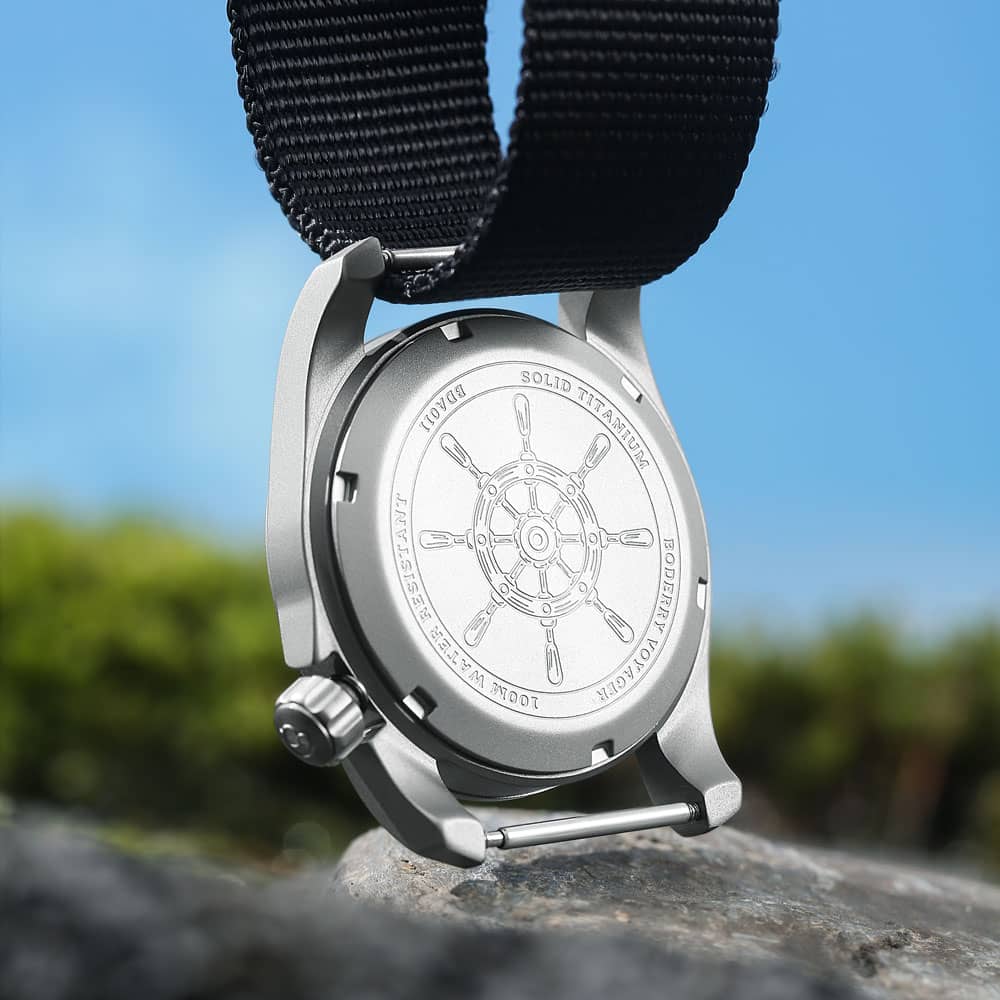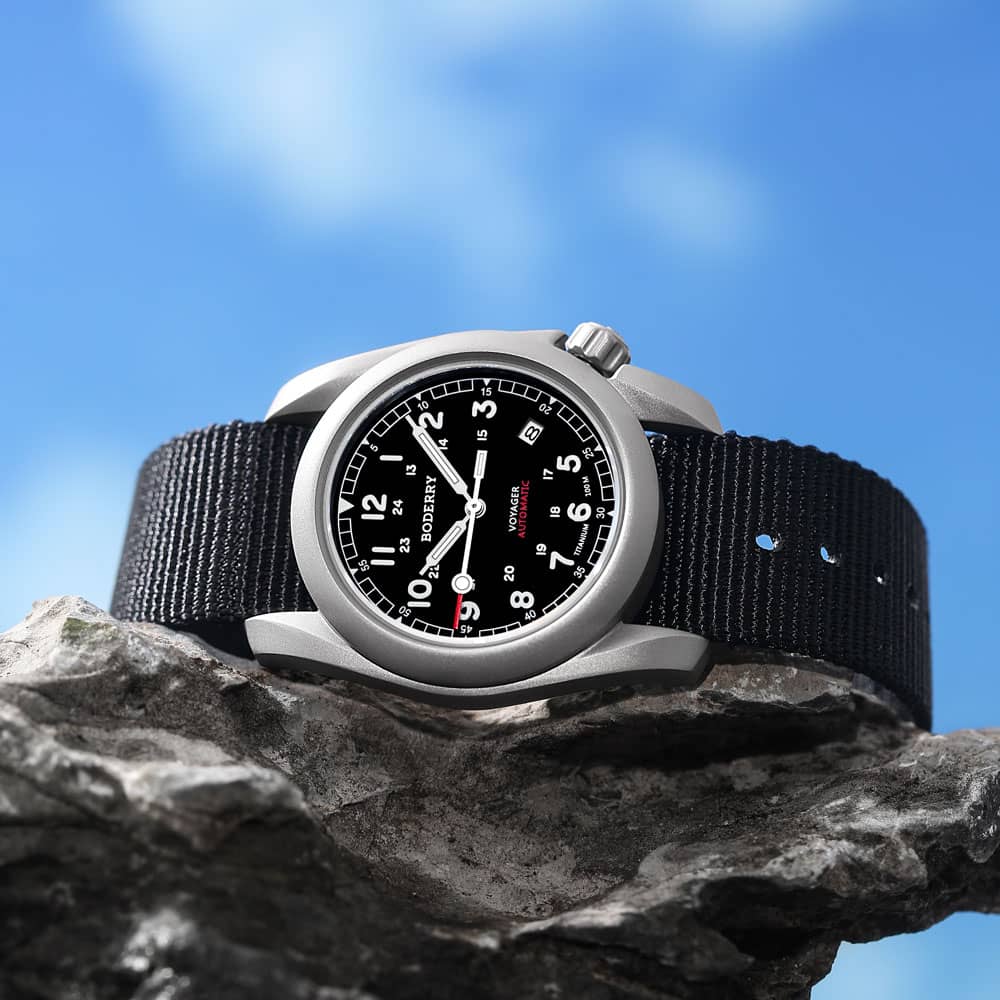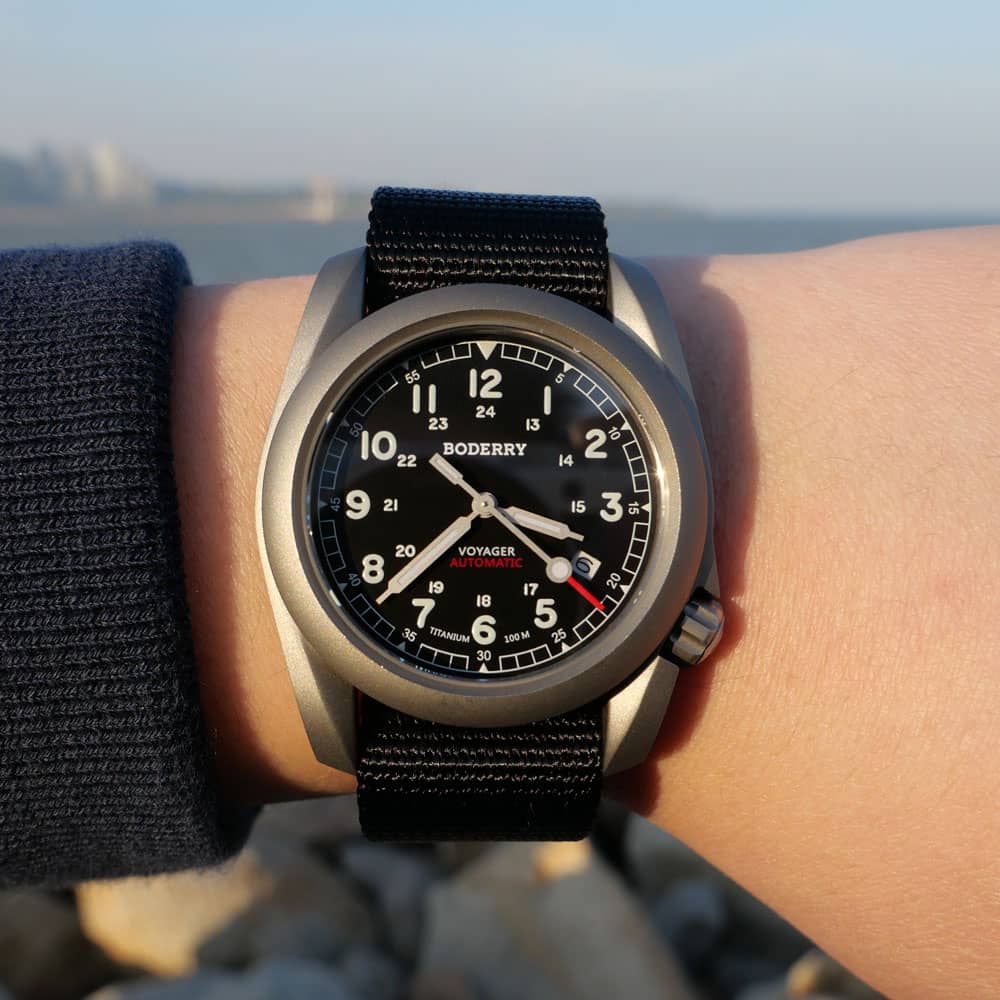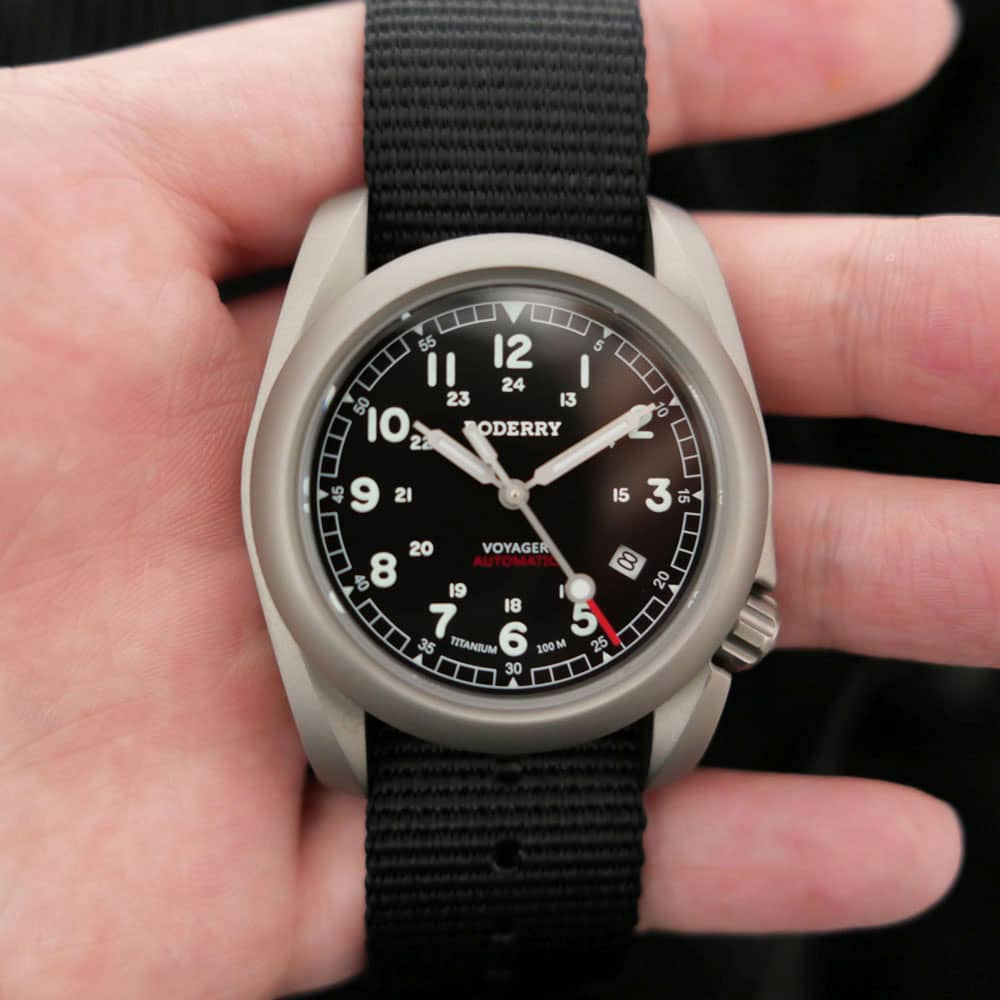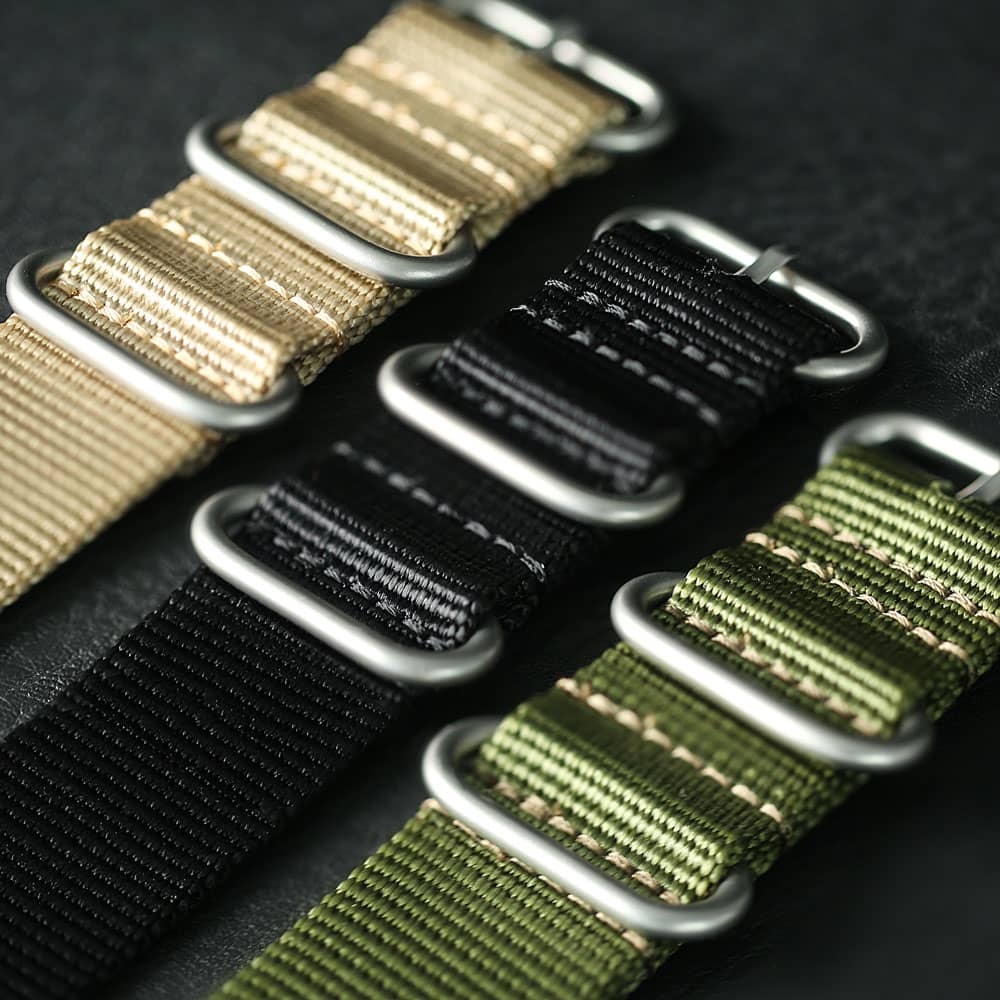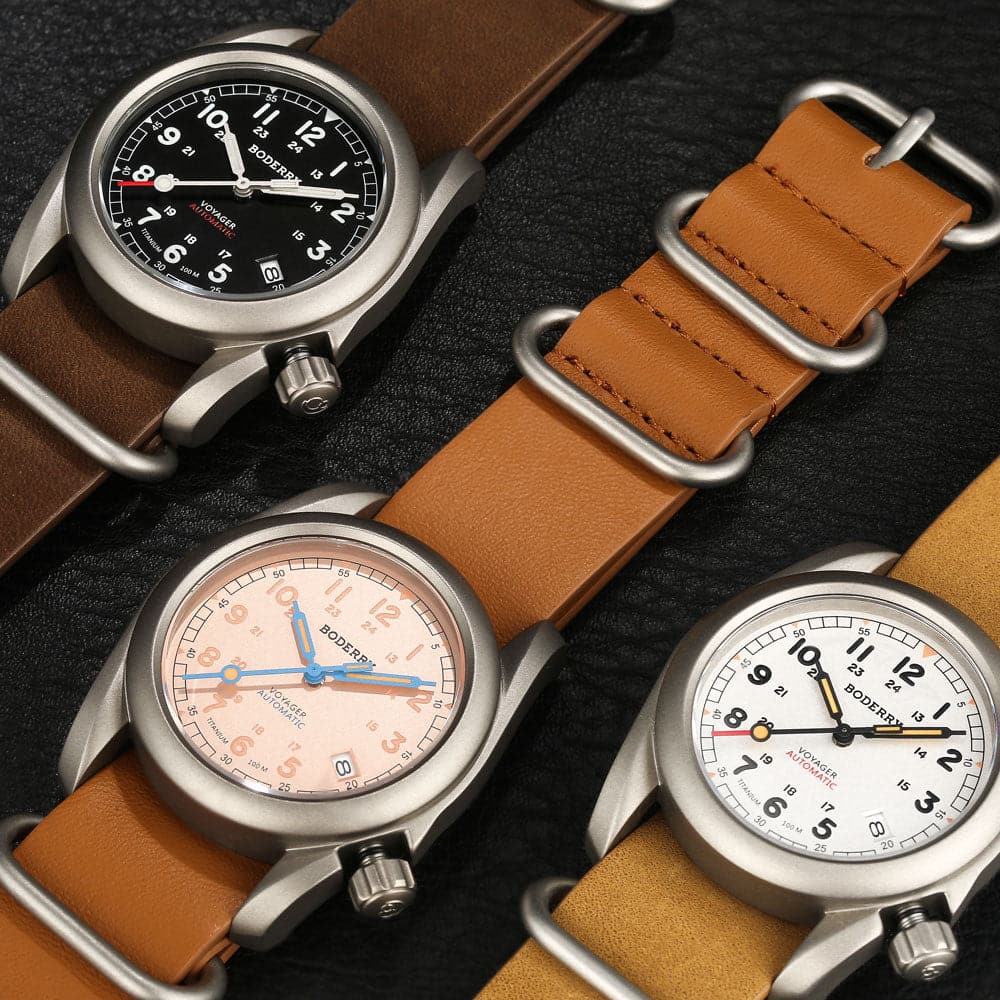 VOYAGER - 100M Waterproof Titanium Automatic Field Watch | Black
Re-stocking soon
Introducing VOYAGER – the ultimate Field watch for all your adventures!
Featuring a sandblasted titanium case that's water-resistant up to 100 meters, Japanese automatic mechanical movement, sapphire crystal, screw-down crown, Swiss C3 Super-LumiNova, and durable 2.0mm nylon strap, this watch is built to last and perform in any condition.
Item Model:Voyager A11T-01
Size:40mm Diameter/12mm Thickness/Lug to Lug:48mm
Case Material:

Solid Titanium

Glass:Sapphire Crystal
Movement : Seiko NH35

3-hand with calendar display,hacking feature

Mechanical automatic,self winding

Water Resistant: 10 ATM(100M)
Straps: 2.0mm thickness, 27mm length nylon strap.Lug Width:22mm
Luminous:Swiss Super-lumiNova C3
Weight:74g
Shipping:
We aim to dispatch your order within 48 business hours of verification, although this may vary according to the current workload of our warehouse.And we do ship orders free worldwide, but that does not include any VAT, import taxes, or fees charged by your local customs authority.Unfortunately, at this time we are unable to cover any VAT, import taxes, or fees charged by your local government due to the fact that they vary in each country. Please note that this fee is not incurred by BODERRY, but your local government. If you have any questions please reach out to your local customs office. If you have any other questions please email us at support@boderry.com.We are more than happy to help!
Delivery Time:Standard shipping: (8-12 Days)
Express shipping (5-7 Days)
Return:Any BODERRY watch purchased from boderry.com may be returned within 30 days of delivery for a full refund or exchange of the purchase price. This ONLY applies to watches that have not been used, worn, or strapped on. Click here for more details.

Warranty:All BODERRY watches come with a 24-month warranty on the internal movements of the watch, which excludes any part subjected to external wear & tear. External wear & tear comprises (but is not limited to) scratches on case, lugs, or crystal, and/or water damage due to negligence. The warranty does not cover straps nor any watch that is not purchased via our website or authorized stockists. Click here for more information. Click here for more details.
Fraud Prevention: Your Payment is Safe & Secure.
Product Showcase
Check out these amazing product photos shared by our Instagram fans!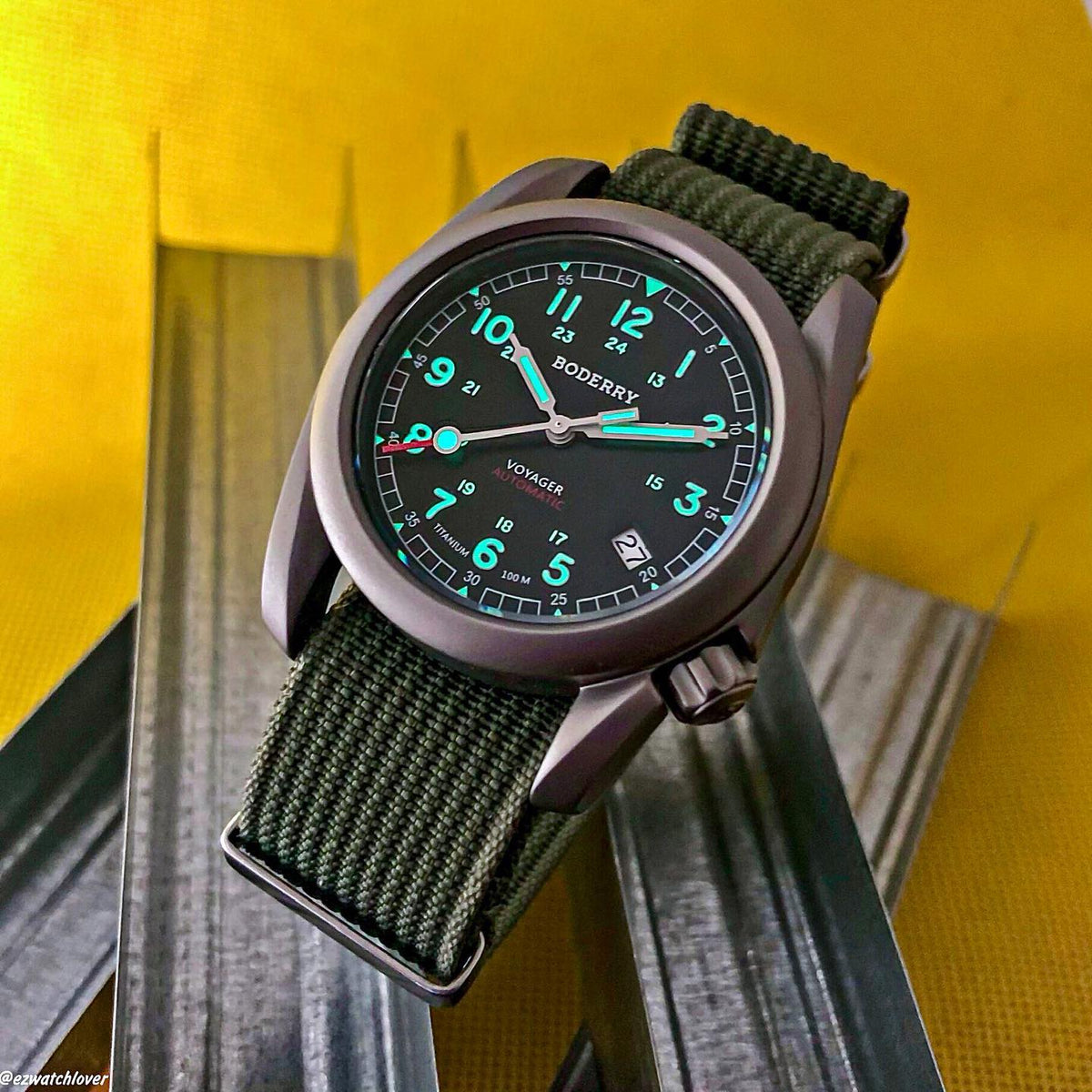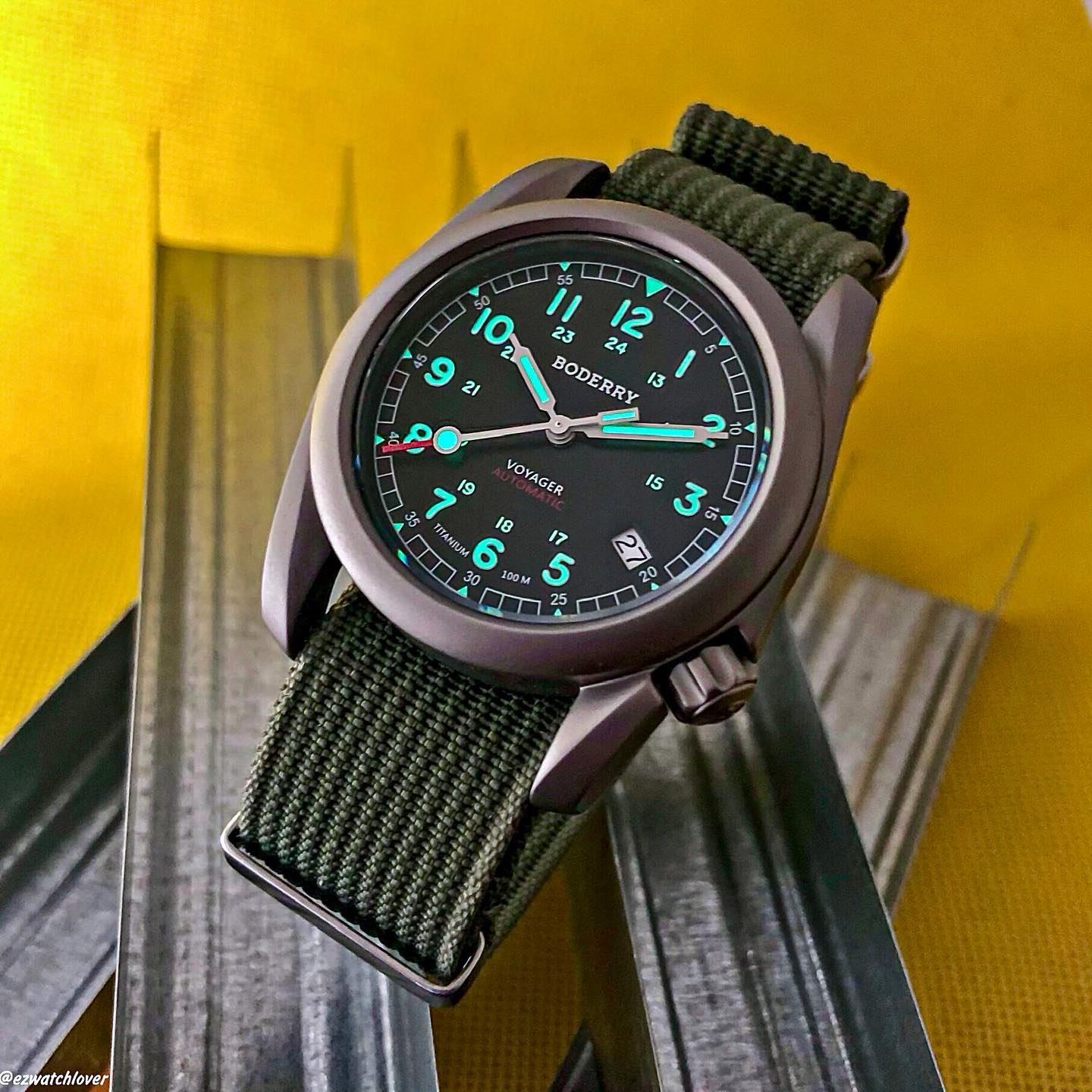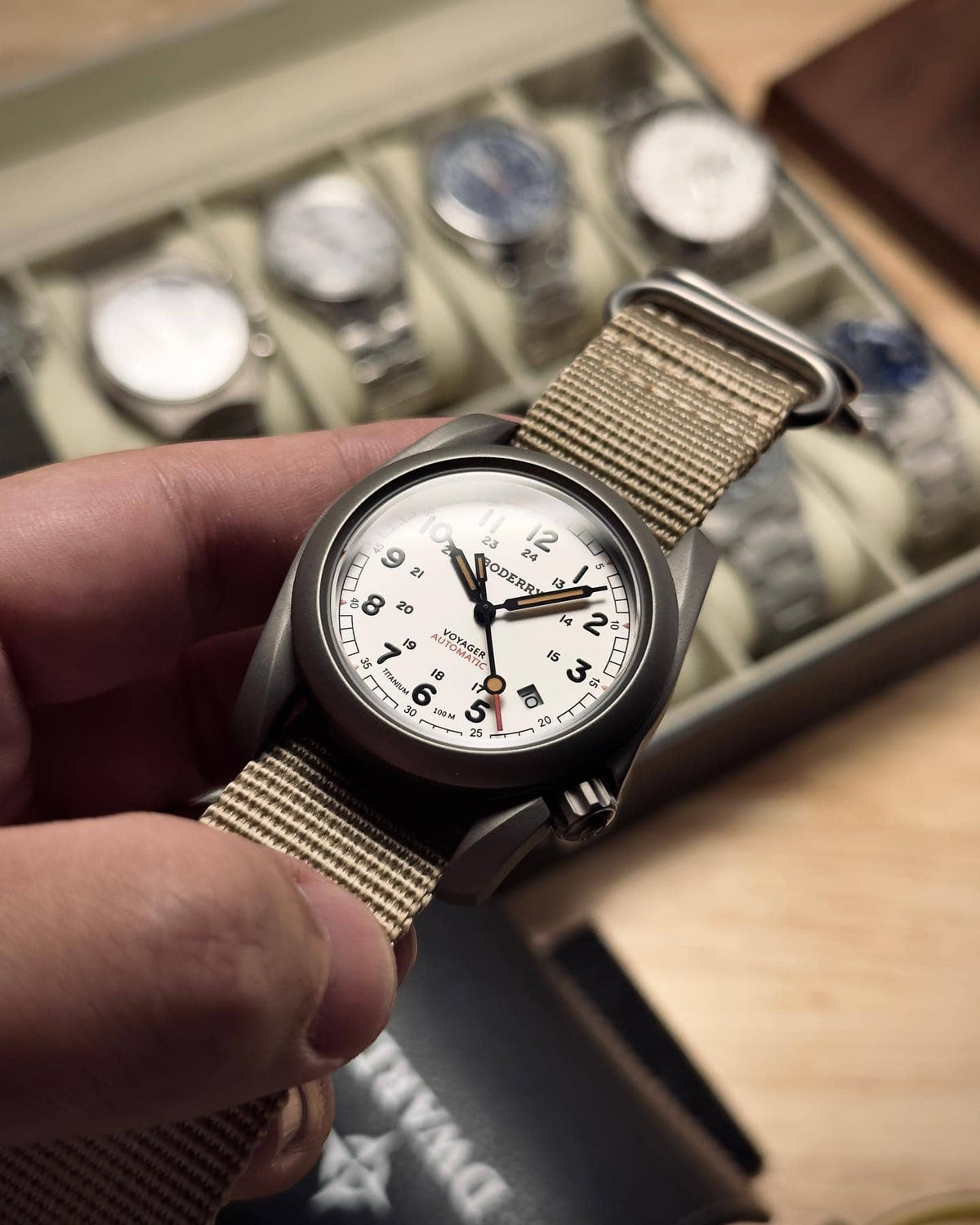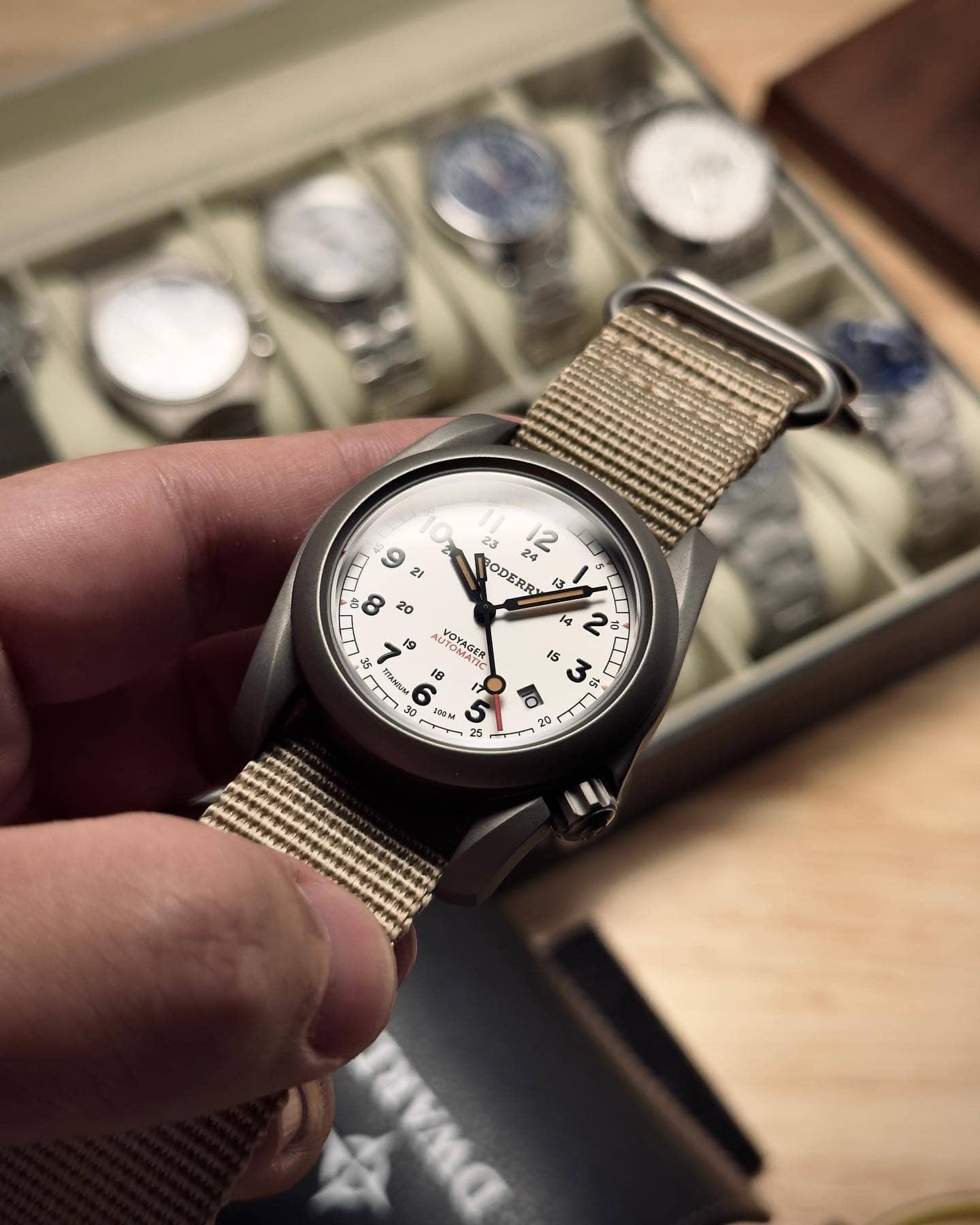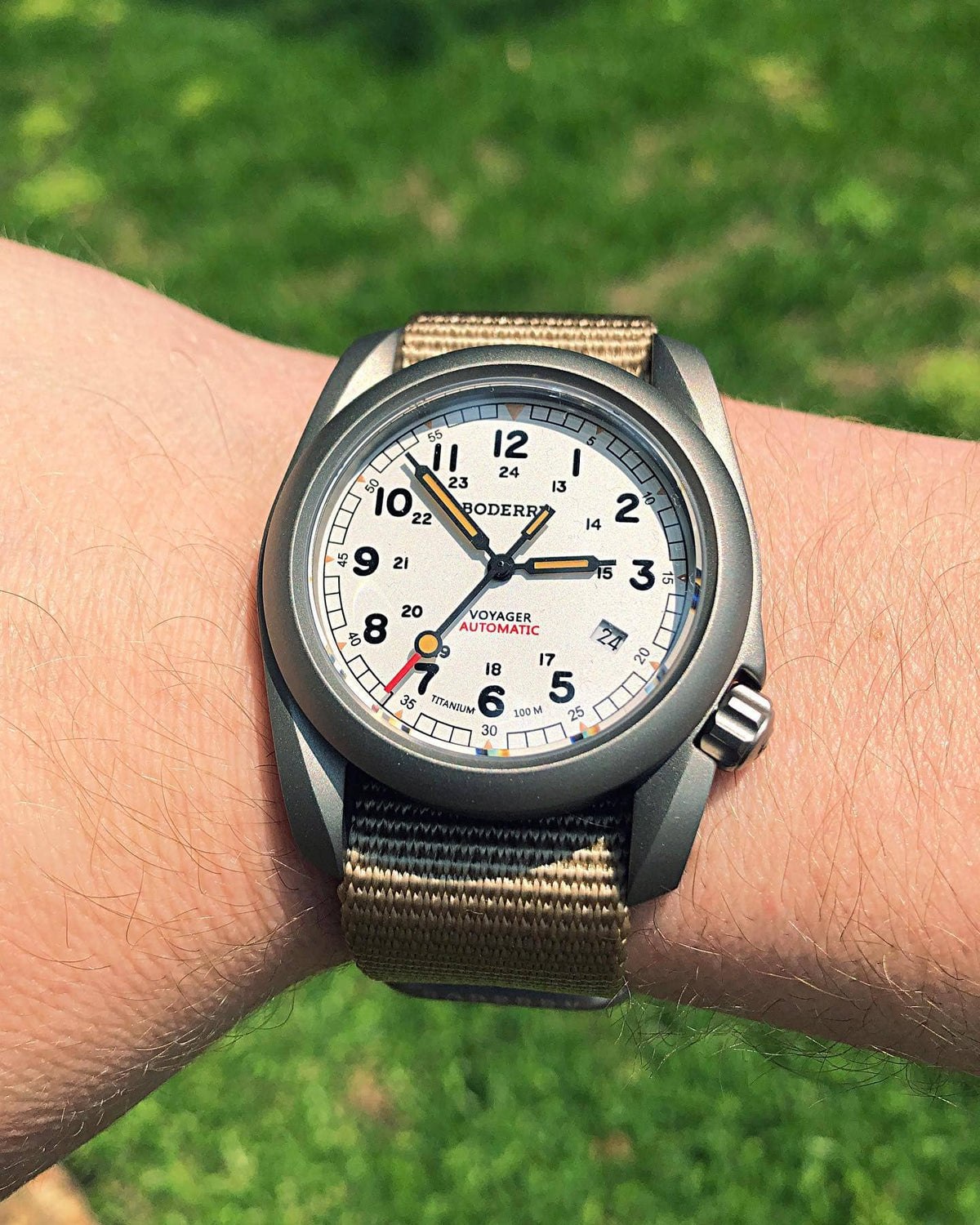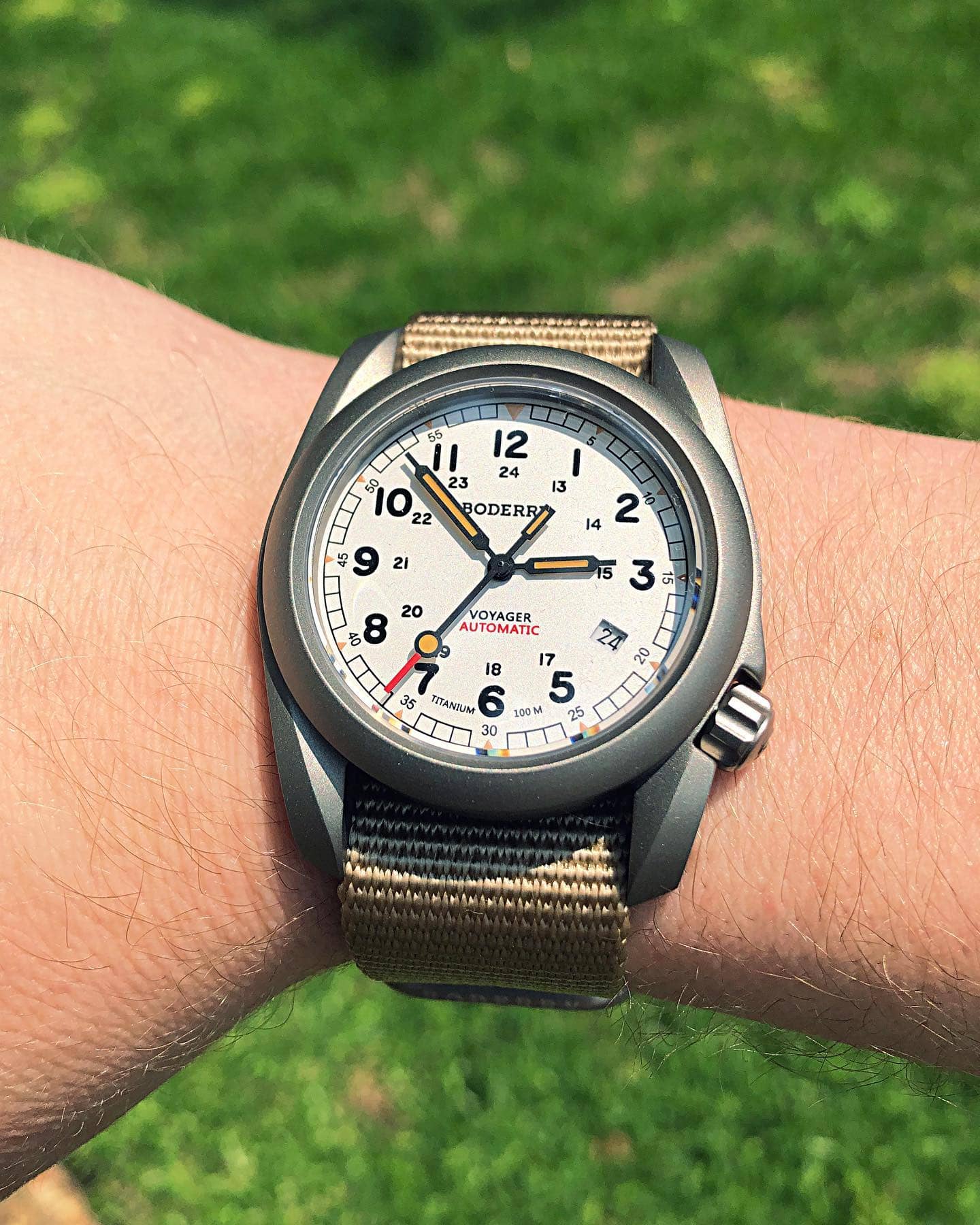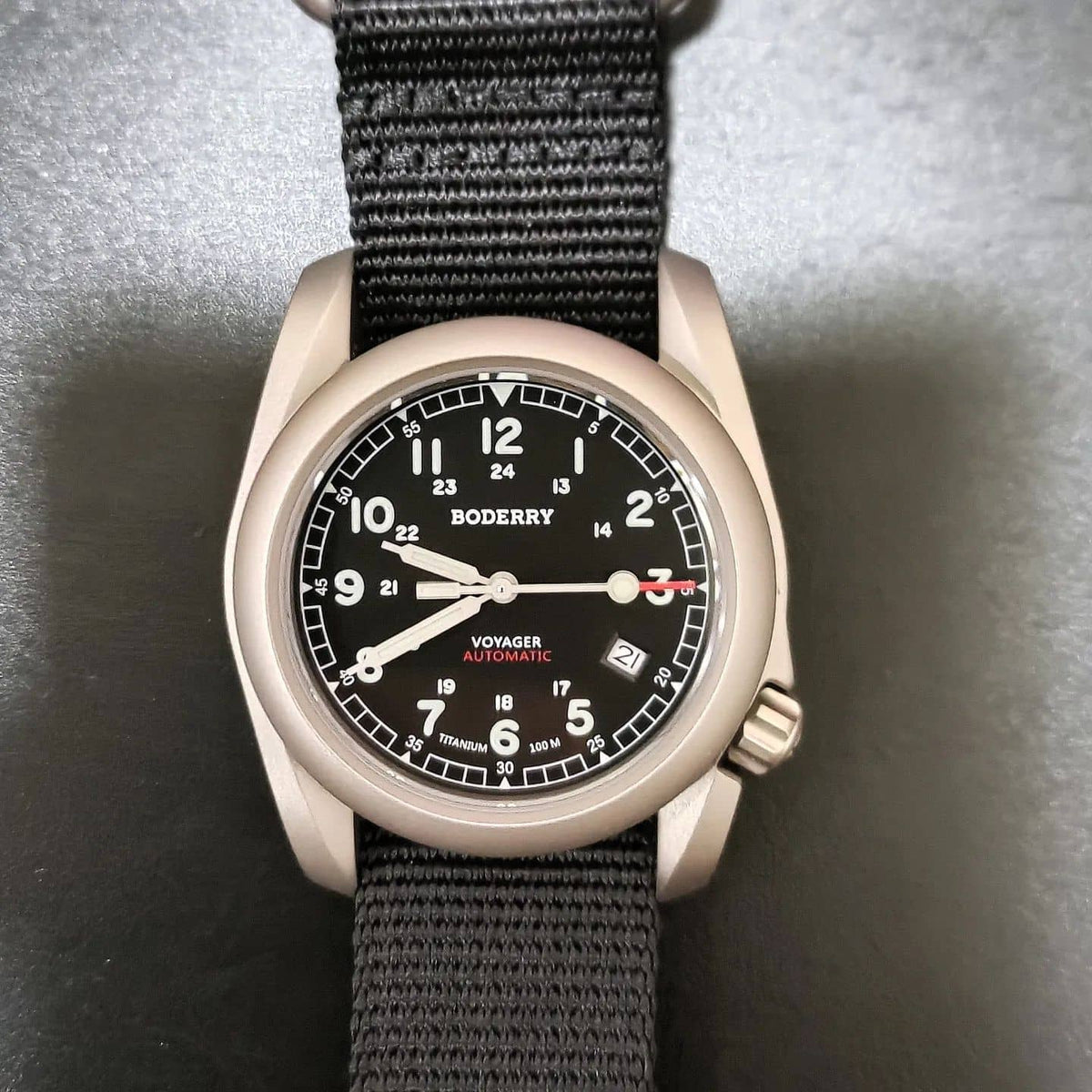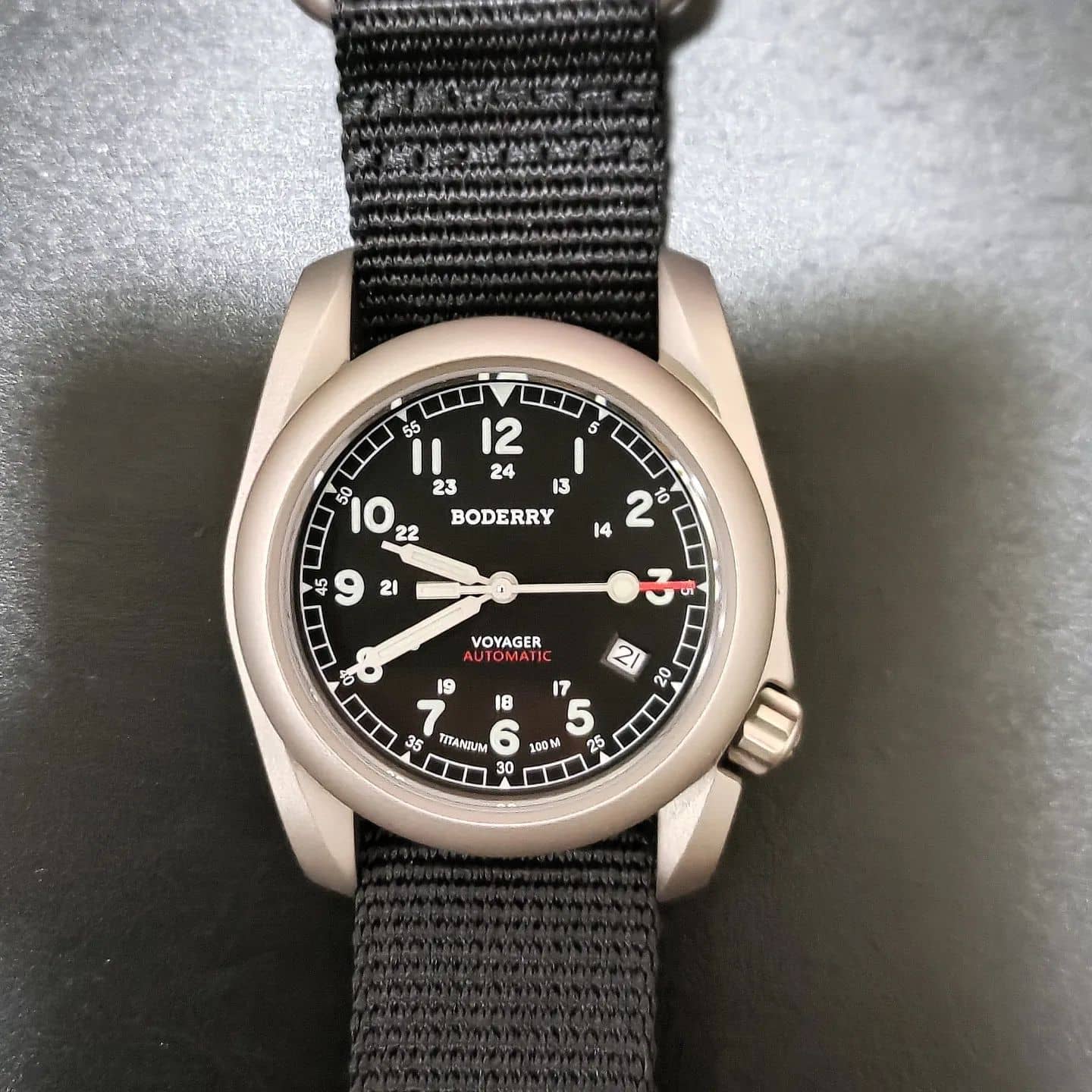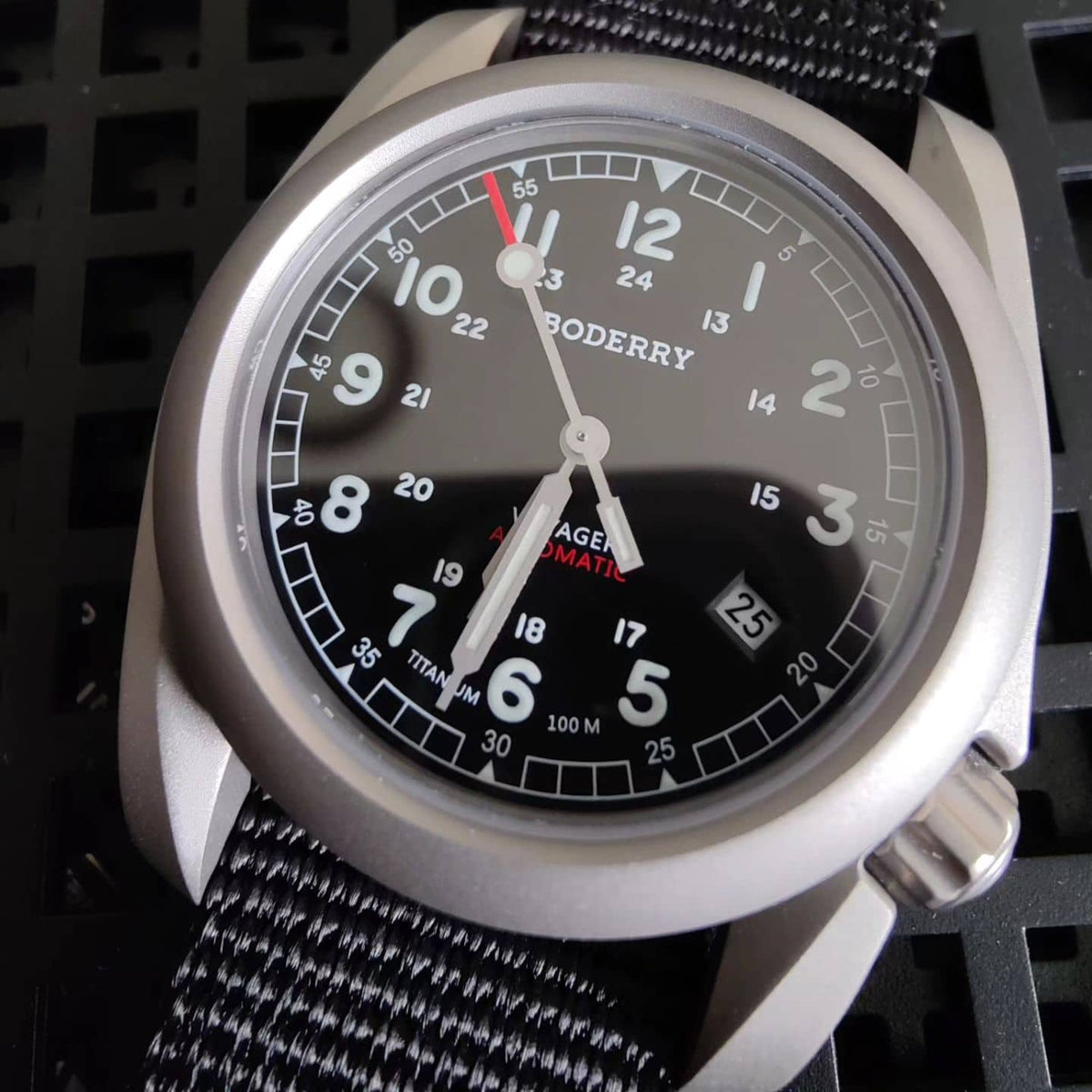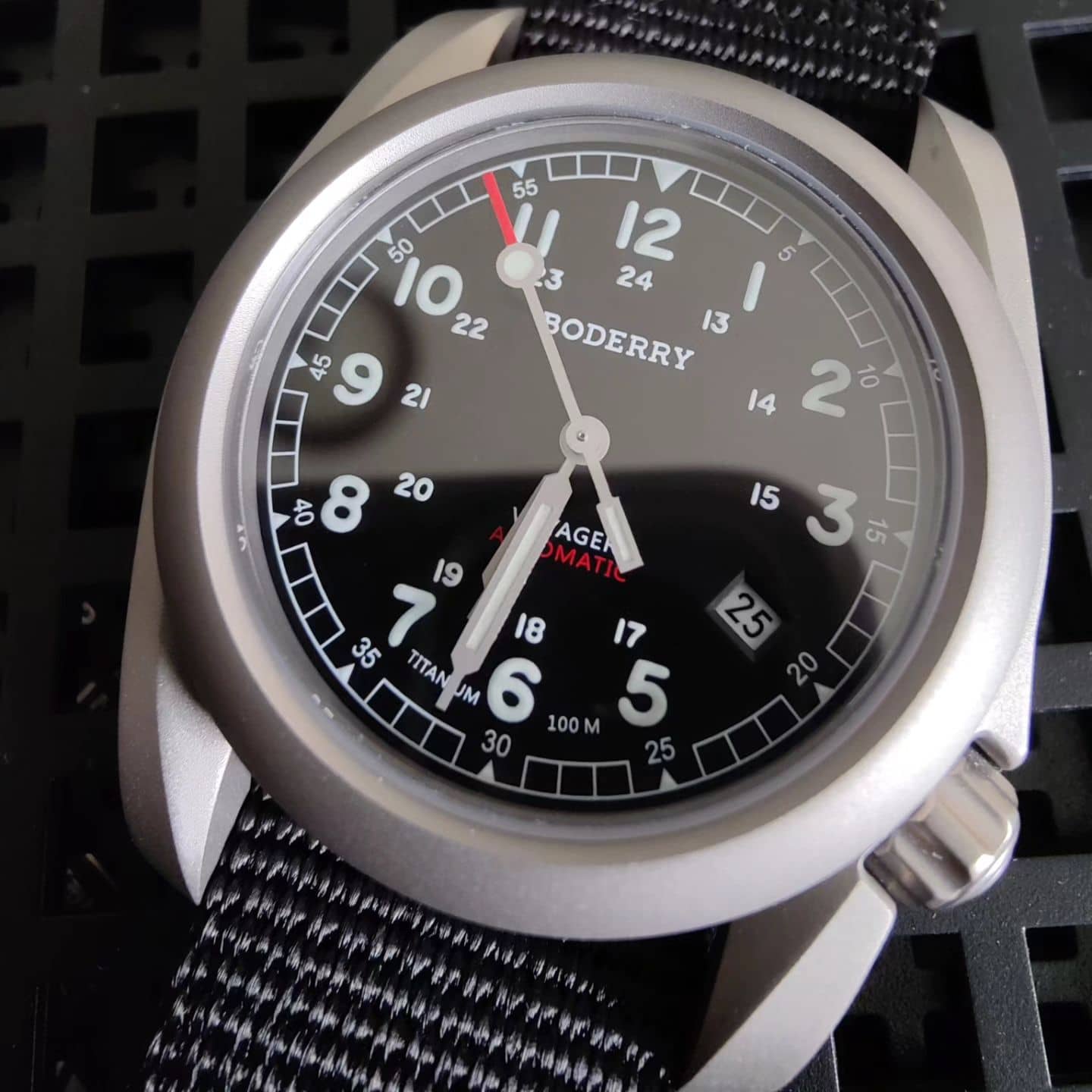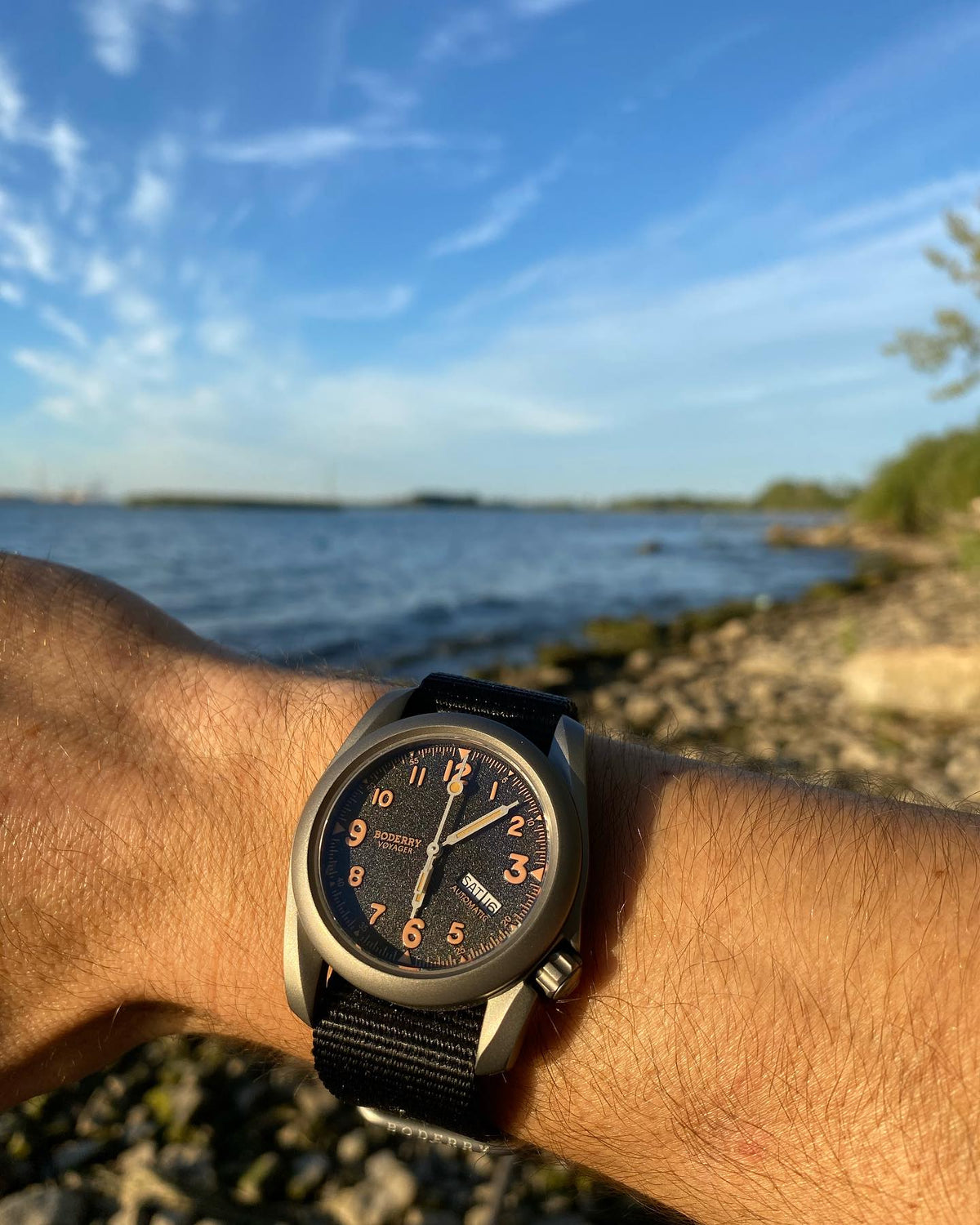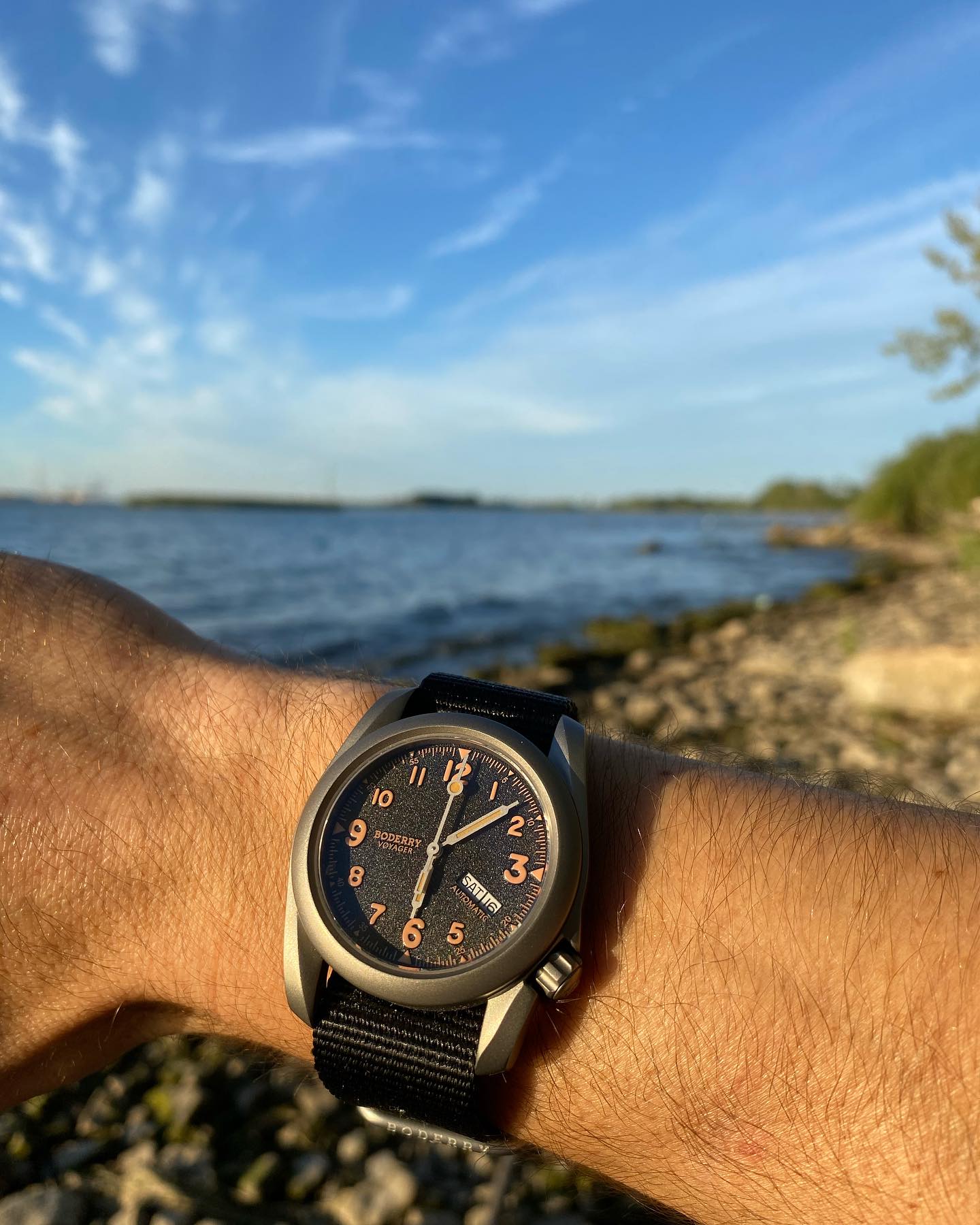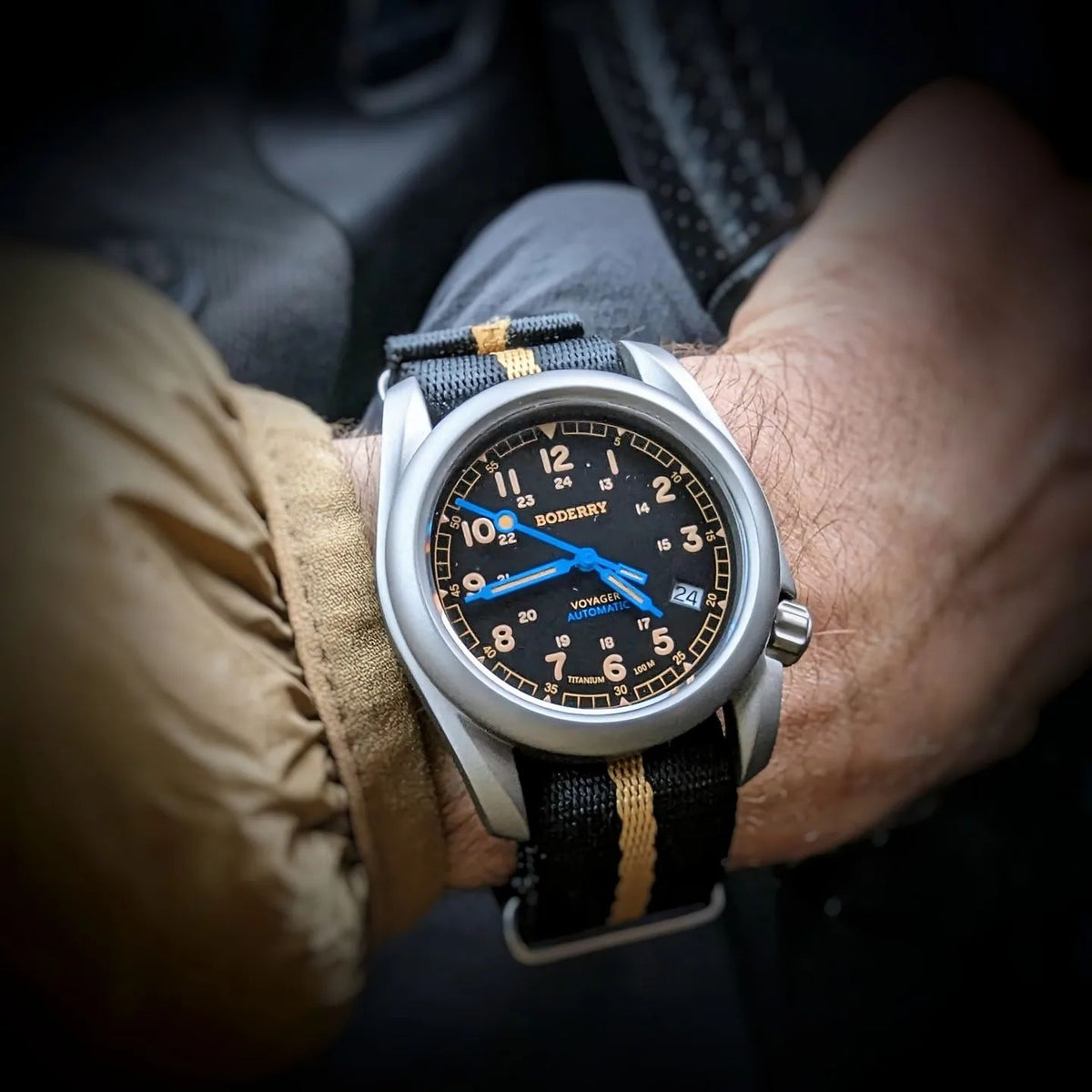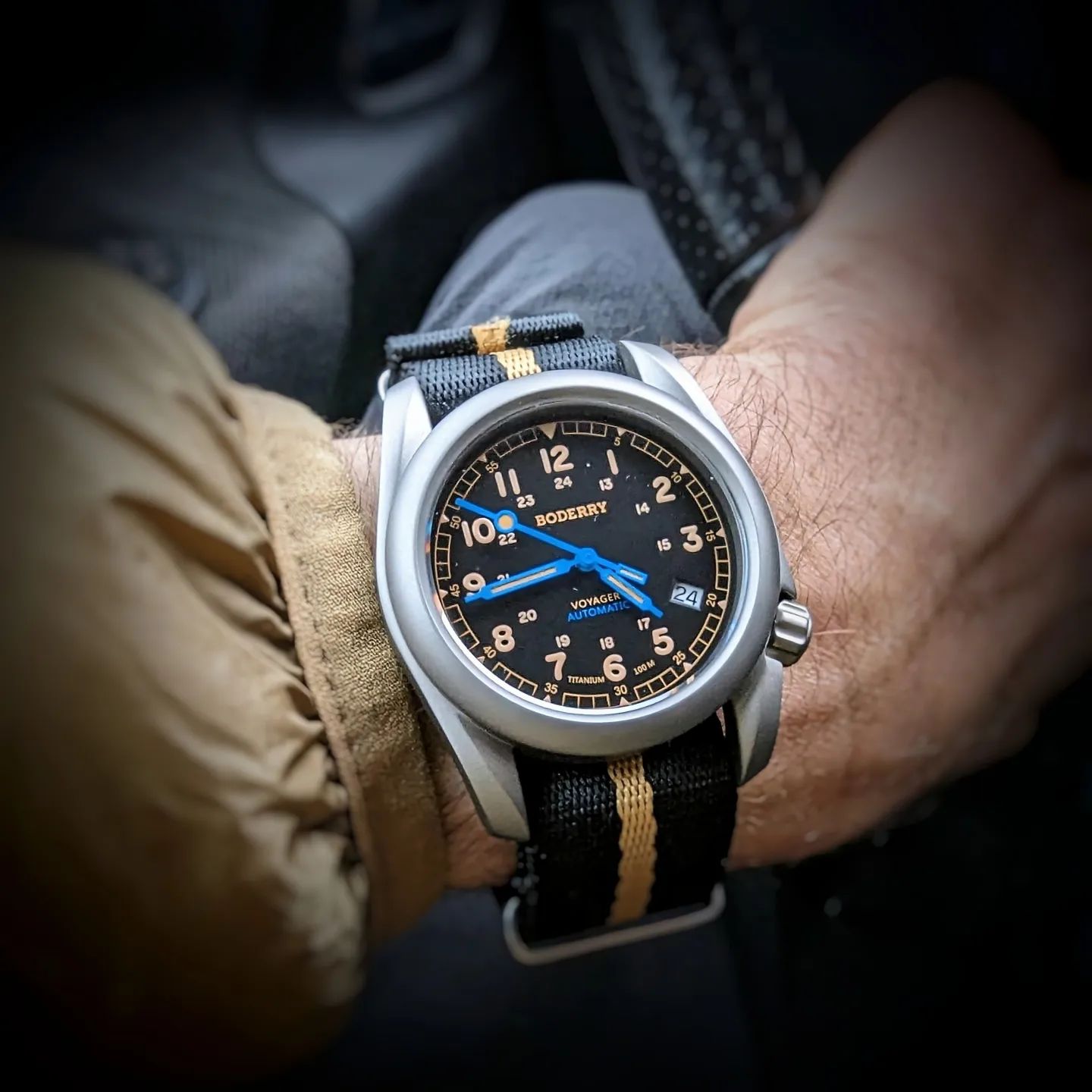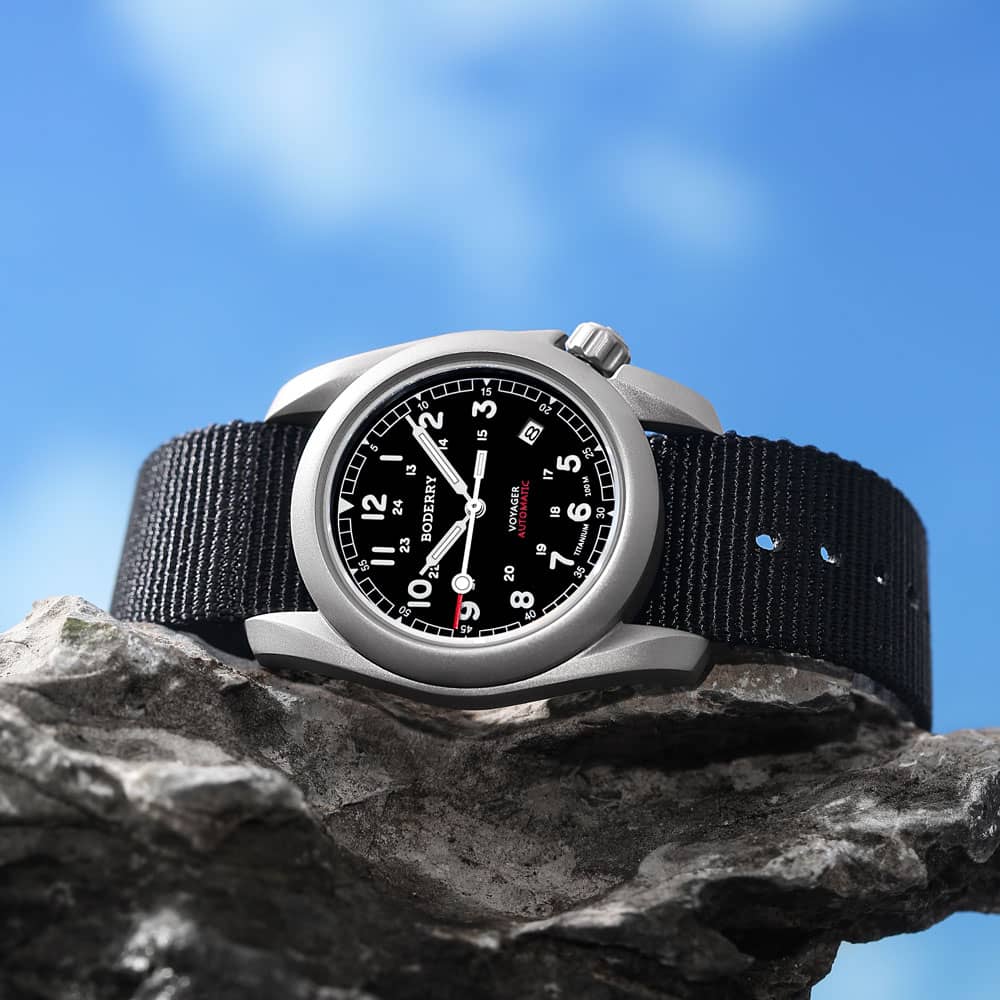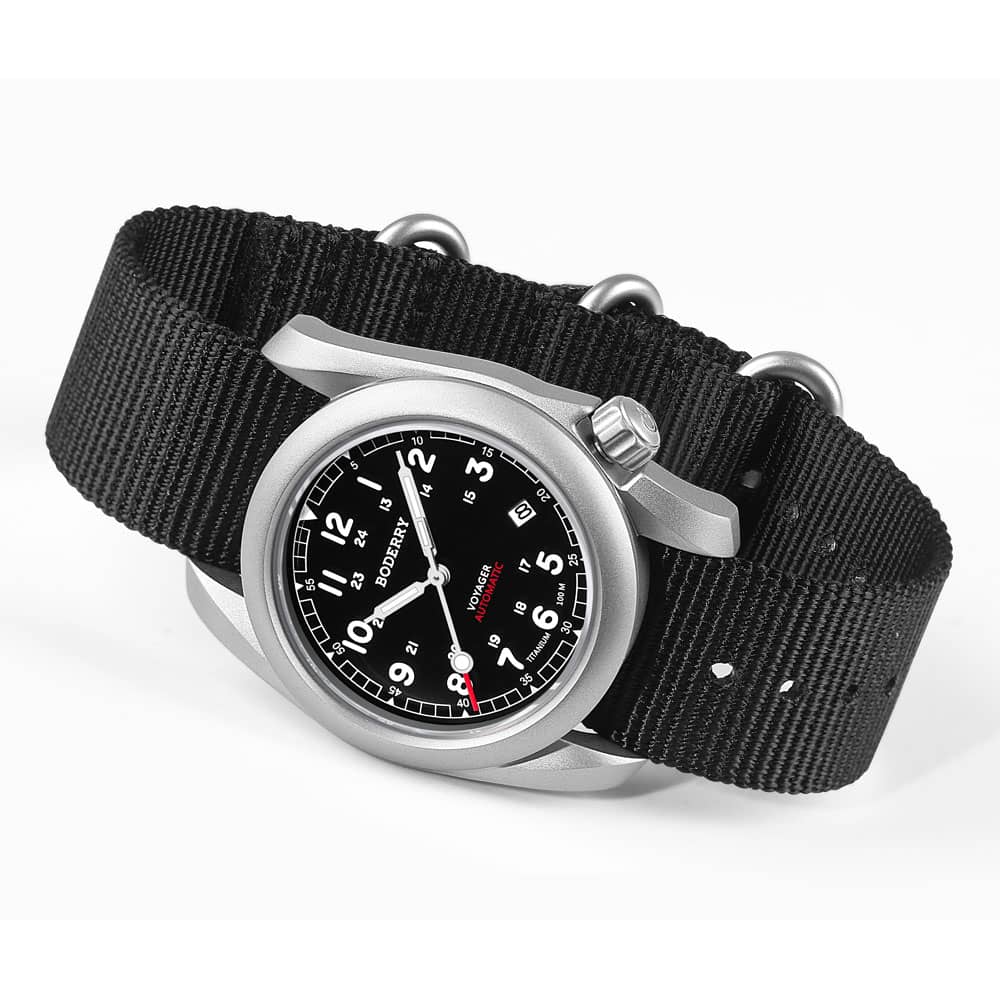 2023 NEW
Titanium Automatic Field
The VOYAGER series is a creatively designed collection by BODERRY, introducing the brand's first Field Watch series. Named after "Voyager," it aims to provide the highest level of durability through premium materials and craftsmanship, accompanying adventurous souls on their journeys. We believe that this watch series will be your ultimate companion throughout your voyages!
VOYAGER
Grade-2 Sandblasted Titanium Case
Crafted from titanium, this watch case offers the perfect balance of strength and elegance. With its lightweight design, corrosion resistance, hypoallergenic properties, and superior durability, our titanium case is the ideal choice for those seeking a reliable companion for any occasion. Elevate your wrist game with this exceptional timepiece!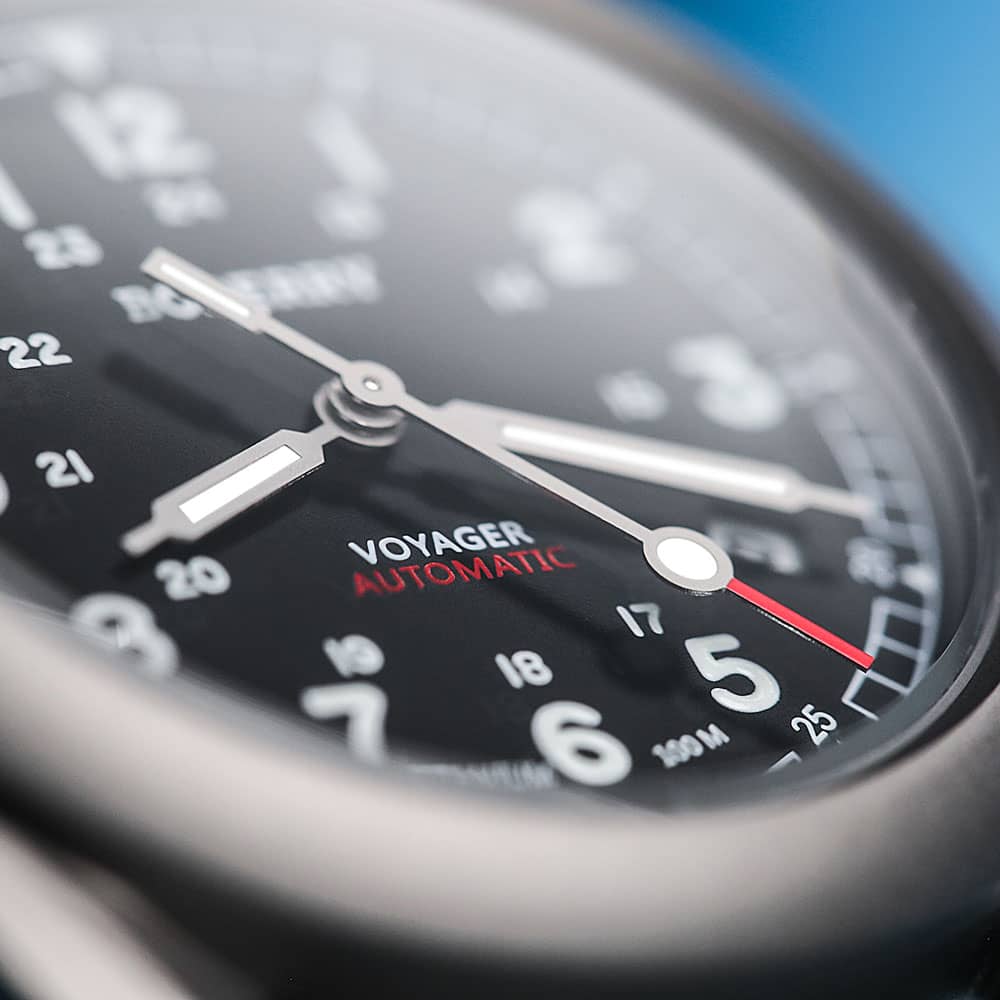 Voyager
Illuminate Your Nights
Experience unparalleled visibility even in the darkest of nights with our Swiss Super-LumiNova. Engineered to provide exceptional luminosity, this technology ensures that your timepiece remains effortlessly readable in any low-light or nighttime environment.
VOYAGER
Uncompromising Clarity and Durability
Elevate your timekeeping experience with the superiority of our Sapphire Crystal Glass. Embrace the clarity, scratch-resistance, anti-reflective properties, and durability it offers, making it a remarkable feature of our timepiece.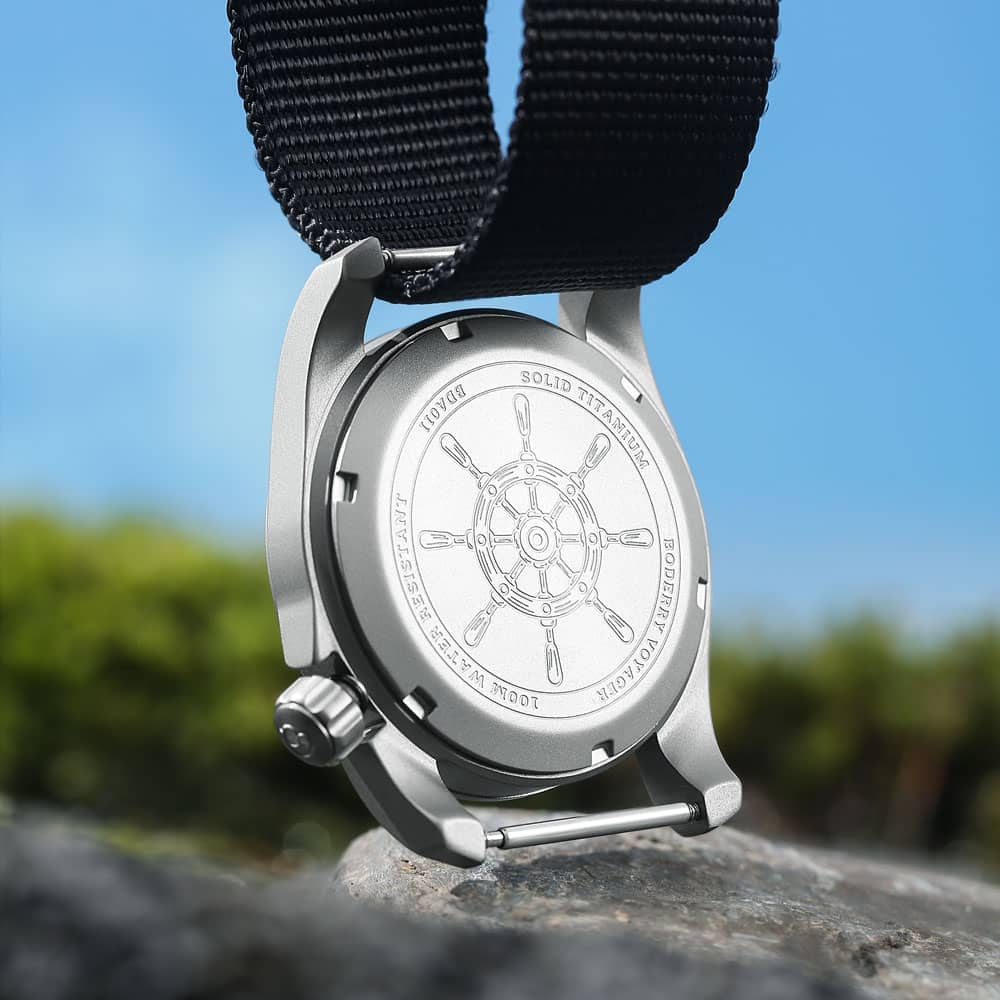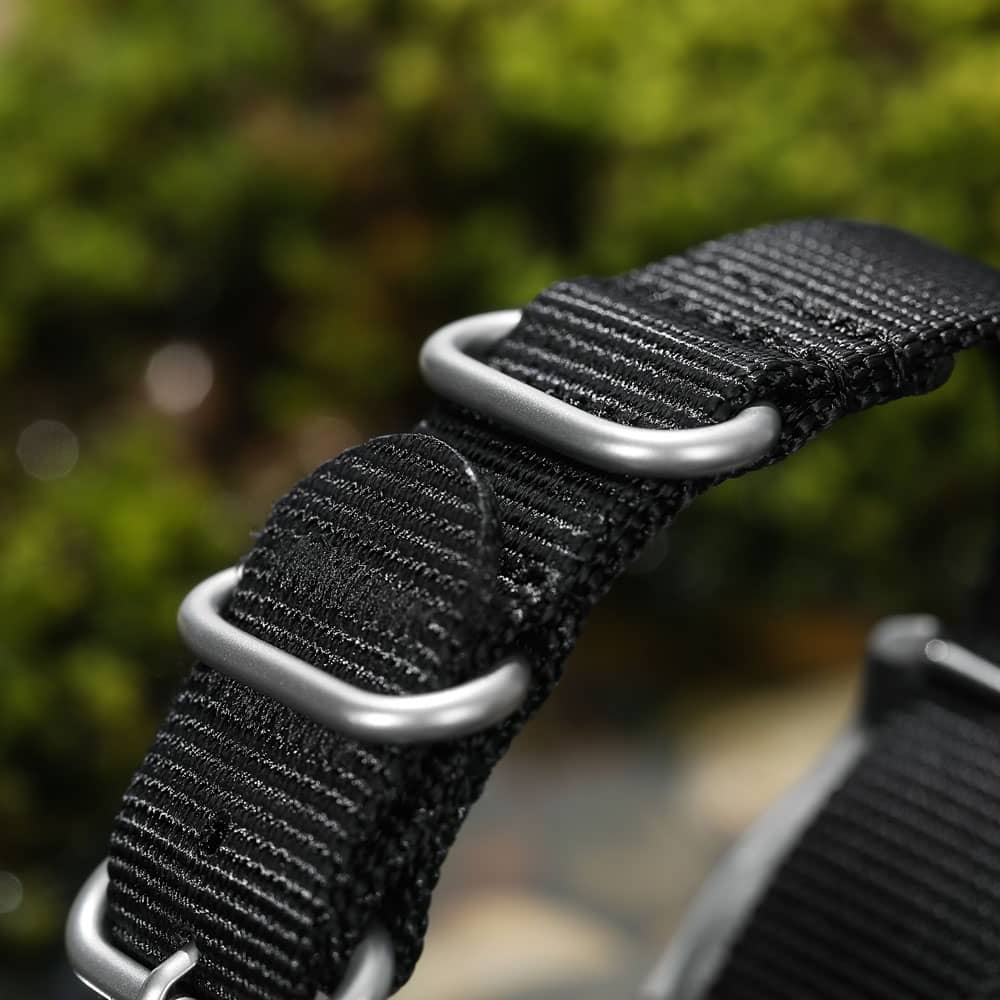 VOYAGER
Nautical Engraved Case Back
Elevate your watch-wearing experience with our Nautical Engraved Case Back, complemented by the stability and high-quality NH35/36 movement(3-hand with calendar and hacking feature). Enjoy the unique design, precise timekeeping, and exceptional craftsmanship that make our timepiece truly special.
VOYAGER
High-Quality Nylon Strap
Upgrade your timepiece with the exceptional comfort and durability of our 2.0mm Thick High-Quality Nylon Strap. Embrace the plush feel, enhanced durability, versatile style, and effortless maintenance that make it the perfect choice for your watch.
{ "bubble": { "content": "", "shape": "portrait", "style": { } }, "previewVideoSources": [ { "mimeType": "application/x-mpegURL", "url": "https://cdn.shopify.com/videos/c/vp/1b026d48c1f24eeca9920cb62a8685b7/1b026d48c1f24eeca9920cb62a8685b7.m3u8" },{ "mimeType": "video/mp4", "url": "https://cdn.shopify.com/videos/c/vp/1b026d48c1f24eeca9920cb62a8685b7/1b026d48c1f24eeca9920cb62a8685b7.HD-1080p-2.5Mbps-15593134.mp4" }], "videoPosterUrl": "", "mainVideoSources": [ { "mimeType": "application/x-mpegURL", "url": "https://cdn.shopify.com/videos/c/vp/1b026d48c1f24eeca9920cb62a8685b7/1b026d48c1f24eeca9920cb62a8685b7.m3u8" },{ "mimeType": "video/mp4", "url": "https://cdn.shopify.com/videos/c/vp/1b026d48c1f24eeca9920cb62a8685b7/1b026d48c1f24eeca9920cb62a8685b7.HD-1080p-2.5Mbps-15593134.mp4" }] ,"product": {"price": "

$97.00 USD

", "originalPrice": "

$129.00 USD

", "title": "VOYAGER - 100M Waterproof Titanium Automatic Field Watch | Black", "url":"/products/voyager-titanium-field-watch-black", "mainImgUrl": "//www.boderry.com/cdn/shop/products/Voyager-01.jpg?height=240&v=1680095993", "shopButtonContent": "Shop" } }